Honoree
Thomas Ehrlich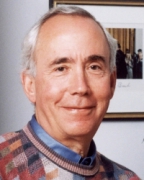 AWARDS
Bicentennial Medal (2019)
University Medal (2013)

Ceremony Rededicating Alumni Hall
Location: Bloomington
Presenter: Michael A. McRobbie

Honorary Degree (1994)

L.H.D.
Doctor of Humane Letters
Commencement
Location: Bloomington
Presenter: Thomas Ehrlich

IU East Chancellor's Medallion (1994)

IU East Chancellor's Medallion
Location: Richmond
Presenter: Charlie Nelms

Thomas Hart Benton Mural Medallion (1988)

Meeting of Academic Planning Committee, Co-Convenors
Location: Indianapolis
Presenter: Thomas Ehrlich

BIOGRAPHY
Thomas Ehrlich became the fifteenth president of Indiana University on August 1,1987. He and his wife, Ellen, came to Indiana from the University of Pennsylvania, where he had been provost for academic affairs and professor of law. During seven years at Indiana University, President Ehrlich has significantly enhanced IU's position as an international teaching and research university of the first rank.
In the words of Gerald Bepko, Vice President of Indiana University and Chancellor of Indiana University-Purdue University Indianapolis: "Tom's achievements have enhanced higher education in Indiana and heightened the global prominence of IU's people and programs. Tom had a distinguished career prior to joining IU. He was one of Harvard's top students and practiced law in one of the nation's finer law firms. He served on the faculty and as dean of the Stanford Law School, and then presided successfully as President Gerald Ford's appointee as the first head of the nation's Legal Services Corporation. Tom also headed the International Development Cooperation Agency during the Carter administration, before becoming provost at the University of Pennsylvania. That broad experience laid the foundation for his success at IU.
"The Ehrlich years at IU are exemplified by a renaissance in academic programs. Faculty from all of IU's eight campuses have refocused energies on basic academic issues to the substantial benefit of the students and citizens of Indiana. The primacy of learning has been emphasized in every part of the university.
"Tom has been an innovator in university administration. He provided leadership for a pioneering program in responsibility center management and pressed for increased accountability. He has represented IU and the state of Indiana very well around the nation and the world, assuming in the process a series of important leadership roles, including the chairmanship of the Commission on National and Community Service in both the Bush and Clinton administrations. He has managed the external affairs of IU within the state with care and good judgment, which has brought major fundraising success. Perhaps most important, he and his wife, Ellen, have set a superb tone of intellectual accomplishment, humanity, decency, and integrity. This will have a lasting impact on all of us.
"For all this and for their continuing service, the state of Indiana owes Ellen and Tom Ehrlich a great deal. Their good leadership has made IU and the state much better than when they arrived in 1987."
President Ehrlich's numerous accomplishments at Indiana University have been carried out with unstinting energy and a deep personal commitment to making a great university still greater. Those accomplishments include a new academic agenda, created with broad participation from faculty at all campuses and directed toward strengthening the quality of education at IU; the completion and permanent funding of the Herman B Wells Scholars Program, which brings top high school graduates to IU Bloomington on four-year academic scholarships; enhancement of the university's relationship with Indiana lawmakers and citizens through Academic Afternoon programs at IU campuses for legislators, and Hoosiers for Higher Education, a group of more than 8,000 supporters across the state; enhanced communication with the university's public through regular newspaper columns, a monthly letter to key friends of the university, a PBS television series featuring IU faculty, and speaking engagements across the state; an increase of more than 50 percent in outside research funding; and an increase in private gifts that places Indiana University tenth among public universities in total endowment. In addition to his leadership of the Commission on National and Community Service, he is a member of the board of directors of the American Council on Education, chairman of the executive committee of Campus Compact, and chairman of the Midwest Universities Consortium for International Activities Big Ten Council of Presidents, among other national positions.
His scholarly works include a co-authored three-volume work, THE INTERNATIONAL LEGAL PROCESS; INTERNATIONAL CRISES AND THE ROLE OF LAW, CYPRUS 1958-1967; NEW DIRECTIONS IN LEGAL EDUCATION, co-authored with Geoffrey C. Hazard Jr., then a Stanford faculty colleague; and INTERNATIONAL LAW AND THE USE OF FORCE, co-authored with IU Professor of Law Mary Ellen O'Connell. He has also written numerous articles, reviews, and other publications, and is widely respected as a thoughtful and articulate commentator on education and society.
Throughout his administration, President Ehrlich has taught undergraduate and graduate courses in law, ethics, American culture, and volunteerism and philanthropy on the Bloomington and IUPUI campuses. Among other awards, he has received honorary degrees from the University of Notre Dame, Villanova University, and the University of Pennsylvania.
President Ehrlich received the IU Bicentennial Medal in September 2019 in recognition of his distinguished service to Indiana University.