Honoree
Twyla Tharp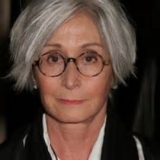 AWARDS
President's Medal for Excellence (2015)

Presenter: Michael A. McRobbie

Honorary Degree (1987)

L.H.D.
Doctor of Humane Letters
Commencement
Location: Bloomington
Presenter: John William Ryan

BIOGRAPHY
Twyla Tharp is among the most innovative and influential contemporary American choreographers and dance artists. A trailblazer in bridging traditional gaps between the performing arts and popular entertainment, she has opened new possibilities that draw the performer and the audience together, giving her art a great immediacy for a broad range of audiences. Her early experience in the dance was in the tradition of classical ballet, and this remains the implicit basis of her work. She extends that tradition, however, by drawing upon other dance forms that contribute to what may be called a new American classicism. With consummate artistry she has choreographed programs in ice skating, tap dancing, ballet, jazz, and modern dance, for stage, television, and film. She has received international acclaim for her superb craftsmanship and for the quality of her creative insight, which has revitalized and reshaped the structure and the vocabulary of dance.
Twyla Tharp was born at Portland, Indiana, and lived there during early childhood before moving to California. She attended Pomona College, then transferred to the American Ballet Theatre School in New York. She studied ballet with Igor Schwezoff, Margaret Craske, Richard Thomas, and Barbara Fallis; jazz with Eugene Lewis; and modern technique with Martha Graham, Alwin Nikolais, Erick Hawkins, Merce Cunningham, and Paul Taylor.
Miss Tharp graduated from Barnard College with a B.A. in art history in 1963. She joined the Paul Taylor Dance Company in that year, remaining with the company until 1965. She quickly launched her career as a choreographer, drawing on her experience in piano, violin, drums, harmony, composition, tap dance, ballet, and baton twirling. Her first work, Tank Dive, premiered at Hunter College in the spring of 1965. Miss Tharp has choreographed works for numerous dance companies, including the Robert Joffrey Ballet and the American Ballet Theatre. In 1965 she formed her own dance troup, Twyla Tharp Dance, which has performed widely both nationally and internationally since that time.
The projects that Miss Tharp pursued early in her career include a work performed at sunrise in New York's Fort Tryon Park; a piece created for the Wadsworth Atheneum in Hartford, Connecticut, and later performed at the Metropolitan Museum of Art; After All, a work choreographed for world champion figure skater John Curry; and the ballets Deuce Coup, As Time Goes By, and Happily Ever After created for the Robert Joffrey Ballet, and Push Comes to Shove for Mikhail Baryshnikov and the American Ballet Theatre. In the late 1960s and early 1970s Miss Tharp and her company taped several dances for television, among them The Bix Pieces for CBS, The Fugue and Eight Jelly Rolls for London Weekend Television, and Sue's Leg for WNET's Dance in America. Her one-hour special, "Making Television Dance," created for WNET-TV Lab, was aired nationally.
Her later major works include, among others, the full-length ballet The Catherine Wheel, Once More Frank, Mud, Baker's Dozen, When We Were Very Young, The Golden Section, Nine Sinatra Songs, Bad Smells, Telemann, The Little Ballet and Bach Partita for the American Ballet Theater, and Fait Accompli. Her choreography contributed to the success of the films Hair, Amadeus, Ragtime, and White Nights, and to the Broadway shows Sorrow Floats and Singin' in the Rain.
Twyla Tharp's work has been recognized by numerous awards, including Guggenheim Fellowships, choreography grants from the National Endowment for the Arts and the Creative Artists Public Service Program, the Brandeis University Creative Arts Citation in Dance, and the Dance Magazine Annual Award. She has given of her time in teaching residencies at several colleges and universities, including the University of Massachusetts, Oberlin College, Walker Art Center, and Boston University, and has received honorary doctorates from the California Institute of the Arts, Brown University, and Bard College.
One outstanding characteristic of Twyla Tharp's choreography is the brilliance of movement, movement so difficult that it demands the maximum human potential, yet simultaneously requires the dancer to make it look effortless. Twyla Tharp has received this achievement from her dancers because, as a dancer, she has never asked more of others than of herself.
Her work is at the same time baroque and classical in nature, a dazzlingly eclectic style that draws from virtually every formalized style of movement in the Western world, bringing them together with protean energy and invention to express musical structures in a plastic dimension. Over the past two decades her creativity has become ever more daring, drawing on intelligence and wit to conjure emotion. She explores new directions to their frontiers, always with the touch of the outrageous and unexpected that has set her individual mark on the art form.
As accessible as it is complex, Twyla Tharp's choreography speaks directly to audiences of many kinds, bringing to life in American culture a dynamic heritage for the future of dance.