Honoree
Marjorie Albohm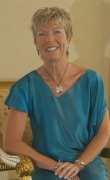 AWARDS
Leanne Grotke Award (2008)
BIOGRAPHY
Marjorie Albohm earned a bachelor's degree from Valparaiso University and a master's degree from Indiana University. She was one of the first women to be certified by the NATA and the first women's athletic trainer at Indiana University. Marje has been widely published in the field of Sports Medicine and is an accomplished national speaker and lecturer.
In 1979, Marje served on the World University Games Medical Staff in Mexico City and in 1980 served on the medical staff for the 1980 Winter Olympic Games at Lake Placid. Later in 1988, Marje served as Medical Director for the 1988 Olympic Track and Field Trials. She has served as the NATA Foundation President, District Four Director (2001 – 2007) and NATA President (2008 – 2012).
Marje has received numerous prestigious awards and honors including the NATA Distinguished Athletic Trainer and Tim Kerin Awards, and the Leanne Grotke Award. Marje is a member of the NATA Hall of Fame (1999).