Honoree
Joe Smith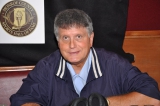 AWARDS
Bill Orwig Award (2004)
BIOGRAPHY
In 2004, during a cream and crimson barbecue, the IU Alumni Association awarded Joseph Smith the Bill Orwig Medal for his contribution to IU athletics. Ken Beckley, president and CEO of IUAA, said the honoree had contributed much to IU. "He is among the best that have ever been honored," Beckley said.
Smith, who has been the sports director at WGCL-AM 1370 in Bloomington and a member of the broadcast team that covers IU football and basketball games for 20 years, said he was flattered to be chosen for the award.
"I am awed to be included in such a list, which includes legendary coaches like Bob Knight," he said. "I had never even imagined in my wildest dreams that I would win this award, even though I have received some nice awards."
Smith was named the Indiana sportscaster of the year in 1998 and inducted into the Indiana Sports Broadcasters and Writers Association Hall of Fame in 2003. Smith was personally acquainted with Bill Orwig, the person for whom the award is named. He recounted his first encounter with Orwig.
"Bill Orwig called me Smitty as soon as I was introduced to him, and he insisted I call him Bill," Smith said. "Then he asked me if I worked hard and I said, 'Yes.'"