Honoree
Glenn Scolnik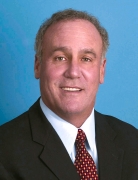 AWARDS
Bicentennial Medal (2019)
IUB Athletics Hall of Fame (2018)

B.S., 1974; J.D., 1978

Presidents Circle Laurel Pin (2016)

Benefactor

Kelley School of Business Academy of Alumni Fellows (2015)

Indiana University Bloomington

Maurer School of Law Academy of Law Alumni Fellows (2013)

B.S., 1974; J.D., 1978

Z.G. Clevenger Award (2009)

B.S., 1974; J.D., 1978

BIOGRAPHY
Glenn Scolnik was born in 1951 in East Chicago, Illinois. He graduated from high school in Munster, Indiana, where he was a leading receiver and selected as an All-State end senior year. He set the season receiving record, and was All-Sectional and All-Regional in basketball.
Scolnik received both an undergraduate degree and a law degree from Indiana University. While there, he was leading receiver sophmore and senior years, led the Big Ten in receptions and set IU records for season receptions, yardage, and single game touchdown passes. He was the team's Most Valuable Player, First Team Academic All-American, and started as wide receiver in the North-South Game in 1972. Scolink graduated with high distinction from the School of Business with a Business-Economics degree, was on the Dean's list every semester and was elected to the Beta Gamma Sigma Fraternity. In 1973, Scolnik was drafted by the Pittsburgh Steelers and played behind All-Pro Flanker Ron Shanklin his rookie year. He played with the New York Giants in 1974, joined the Calgary Stampeders in 1975, and played for the Hamilton Tiger-Cats in 1976.
After graduating from law school in 1978, Scolnik joined Sommer & Barnard (now Taft Stettinius & Hollister LLP) in Indianapolis, where he was named a partner in 1984. In 1993, Scolnik joined Hammond, Kennedy, Whitney & Co. Inc., a New York firm founded in 1903 as a merchant bank. In the 1980s, HKW discontinued its merchant banking activities and began investing as the sole equity sponsor in management buy-outs. In 1998 Scolnik was named president and CEO in charge of all of HKW's operations worldwide. In 2009, he became chairman of the board of HKW but retained the responsibility for all platform acquisitions.
During Scolnik's 11 years as CEO, he led HKW into the private equity fund environment with HKW Capital Partners II ($100 million in 2002) and HKW Capital Partners III ($255 million in 2007); hired all 14 current investment professionals; and moved the operations of HKW from New York to Indianapolis. Scolnik has been involved in more than 70 change-of-control acquisitions by HKW, most of them as a partner.
Long active in civic affairs, Scolnik is a member of the law school's Board of Visitors, the Indiana University Foundation Board of Directors and the Board of Directors of the Conservation Law Center Inc. He is also a member of the Board of Trustees of Meridian Street United Methodist Church in Indianapolis.