Honoree
Booker T. Jones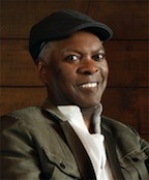 AWARDS
Distinguished Alumni Service Award (2013)
Honorary Degree (2012)

D. Mus.
Doctor of Music
Bloomington Commencement
Location: Bloomington
Presenter: Michael A. McRobbie

Grammy Award (2011)

Best Pop Instrumental Album
Performance: The Road From Memphis

Grammy Award (2009)

Best Pop Instrumental Album
Performance: Potato Hole

Grammy Award (1994)

Best Pop Instrumental Performance
Performance: Cruisin'

BIOGRAPHY
Grammy recipient and Indiana University alumnus Booker T Jones's creative passion and deep reflectiveness are just two contributing factors to his wildly successful and decades-spanning musical career. Jones's talent as composer, instrumentalist, and bandleader has won him worldwide acclaim, and his recordings, performances, and collaborations with musicians such as Otis Redding, Sam and Dave, Rufus and Carla Thomas, Mable John, John Lee Hooker, Albert King, Bob Dylan, Neil Young, Willie Nelson, Kris Kristofferson, and many others have made him a household name. Up front on his Hammond organ with Booker T & the MGs or behind the scenes as session man, songwriter, producer, and arranger, Booker T Jones did as much as anyone alive to define and deepen the sound of soul music. He combined his own natural gifts with his training at IU to embark on a lifelong musical exploration that continues to this day, most recently in the acclaimed 2011 album, "The Road from Memphis." Andy Hollinden, senior lecturer in the IU Jacobs School of Music, calls Jones an honorable and peerless ambassador of American music as well as a "prime architect of the great American art form, soul music."
As early as high school, Jones was performing with local Memphis bands and musicians affiliated with Stax Records. His band, Booker T & the MGs, became Stax's resident studio band, and their immense versatility allowed them to accommodate a wide range of vocal styles. Glenn Gass, Provost Professor in the Jacobs School of Music, says that Jones's band "defined the spare, punchy, and bottom-heavy sound of Southern soul music. In contrast to Motown's orchestrated pop-soul productions, the Stax/Memphis sound was lean, economical, and deeply groove oriented." "Booker T was an integral ingredient that distinguished Stax music from soul music created in big cities like Detroit, Chicago, and Philidelphia," says Deanie Parker, former CEO of the Soulsville Foundation Board, who calls Jones's contributions to Stax indelible and timeless. In the 1960s alone, Jones was featured on over 600 recordings, including Booker T & the MGs' 11 instrumental albums and their distinctive backing on classics like "(Sitting on the) Dock of the Bay," "In the Midnight Hour," "Soul Man," "Hold on, I'm Comin'," "Sweet Soul Music," "Born Under a Bad Sign," and "Knock on Wood." As a producer, Jones has worked with a wide array of artists, from Bill Withers ("Ain't No Sunshine") to Willie Nelson (the classic Stardust album), and his role as bandleader notably includes performances and recordings with Neil Young and Bob Dylan, proof that nearly every musician dreams of hearing the unmistakable sounds of Jones's Hammond B3 on their songs. His music has made it into more than 50 movies, and in 1968, he made an original soundtrack for the film Up Tight.
Jones's choice to pursue a music degree at Indiana University was a risky decision since he was already an established musician with a hit record, "Green Onions," under his belt. Nonetheless, he worked hard to be able to tour on weekends and summer breaks so that he could complete his degree. Parker recalls that Jones was greatly missed during the academic year; when he was able to return to Memphis, he recorded nonstop.
Jones graduated from the Jacobs School of Music in 1967 and remains the only alumnus elected to the Rock and Roll Hall of Fame. About his time at IU, he says, "I have a confidence I wouldn't have had otherwise, and Stax benefited from it too, because I was able to write strings for them, to do charts and orchestrations. Indiana had 24-hour access to the music library, and I was always in there listening. The actual music can mean an emotion; they can be one and the same. When an artist can put an emotion in a piece of music and a listener feels the same emotion, then it's been transferred. That's just a real true thing that you can't touch."
Jones was inducted into the Rock and Roll Hall of Fame in 1992 and received a Grammy for Best Pop Instrumental Performance in 1997. He was awarded a Grammy for Lifetime Achievement in 2007 and back-to-back Grammys in 2009 and 2010 for Best Pop Instrumental Album by a Solo Artist. The Stax Museum of American Soul Music in Memphis features a gallery that testifies to Jones's gifts as a musician.
An honorary IU degree thus becomes the latest accolade to acknowledge, in the words of IU Professor of Ethnomusicology Portia Maultsby, "the longevity of Booker T Jones's music and worldwide influence as well as his recognition by prestigious music industry organizations and cultural institutions."