Honoree
Sage Steele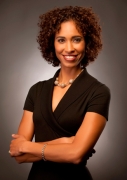 AWARDS
The Media School Distinguished Alumni Award (2018)

Indiana University Bloomington
Indiana University School of Health and Rehabilitation Sciences
B.S., 1995

Distinguished Alumni Service Award (2015)

Indiana University Bloomington
Indiana University School of Health and Rehabilitation Sciences
B.S., 1995

School of Public Health Anita Aldrich Distinguished Alumni Award (2011)

Indiana University Bloomington
Indiana University School of Health and Rehabilitation Sciences
B.S. 1995

BIOGRAPHY
Sage Steele graduated from the Indiana University Indiana University School of Health and Rehabilitation Sciences in 1995 with a degree in Sports Communication. She joined ESPN in 2007 and is a co-host of ESPN's flagship show, SportsCenter. Most recently, Steele served as update host during live daytime SportsCenter editions, which debuted in August 2008. She also contributes to First Take and previously anchored SportsCenter updates on Mike & Mike in the Morning and has served as a guest co-host of ESPN2's SportsNation.
Steele began her television career at WSBT-TV (CBS) in South Bend, Indiana, as a producer and reporter, then worked at CBS affiliate WISH-TV in Indianapolis, Indiana, from 1997-1998 as the weekend morning sports anchor and weekday reporter. Her reporting duties included the Indianapolis Colts, Indiana Pacers, Indianapolis 500 and Brickyard 400 auto races, local college and high school sports.
Her career continued as she worked in Tampa, Florida as a sports reporter with former WFTS sports director and current ESPN First Take host Jay Crawford, and at Fox Sports Florida where she covered teams such as the Tampa Bay Buccaneers, Orlando Magic, Tampa Bay Lightning and University of South Florida Bulls. She then worked at Comcast SportsNet Mid-Atlantic in Bethesda, Maryland, where she was an anchor and reporter for the network's nightly local sports news program, SportsNite. Sage was one of Comcast SportsNet's original personalities, joining that network when it launched in 2001. During her six years at CSN Mid-Atlantic (2001 - 2007), she was a main anchor while simultaneously serving as the beat reporter for the Baltimore Ravens.