Honoree
Straight No Chaser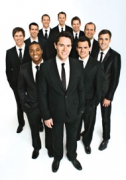 AWARDS
Bicentennial Medal (2019)
BIOGRAPHY
Originally formed in October 1996, the 10 members of Straight No Chaser all met through the Singing Hoosiers. Such was the impact SNC made at IU that the school hosted a 10th anniversary reunion show for the original lineup in 2006, and when Randy Stine posted clips from a 1998 concert on YouTube, SNC's fan base grew exponentially. In 2007 alone, the group's version of "The 12 Days of Christmas" was viewed more than seven million times. Today that number has surpassed 12 million, and the group's cumulative YouTube views clock in at more than 25 million. Among those viewers was Atlantic Chairman/CEO Craig Kallman. Kallman e-mailed Stine, who initially thought it was a prank but thought otherwise when he was whisked to Los Angeles to meet with the label chief. A few days later, the entire group was in New York City to sign its recording deal.
The group has reassembled and reemerged as a phenomenon - with a massive fan base, numerous national TV appearances, and over 225,000 tickets sold to over 180 shows. Straight No Chaser is the real deal - the captivating sound of 10 unadulterated human voices coming together to make extraordinary music that is moving people in a fundamental sense… and with a sense of humor. As original member Randy Stine comments, "We take the music very seriously; we just don't take ourselves too seriously."
Their album With a Twist debuted on the Billboard 200 at No. 29. Christmas has been good for SNC. The group's 2008 debut, Holiday Spirits, hit No. 4 on Billboard's Top Holiday Albums chart and spent two weeks in the No. 1 slot on Amazon and five days atop the iTunes sales chart. SNC's version of "The 12 Days of Christmas," which incorporates Toto's "Africa," went Top 5 on the Adult Contemporary chart and was Top 10
on the Christmas radio chart. The subsequent Christmas Cheers in 2009 was No. 6 Top Holiday Albums and rolled into the Billboard 200 at No. 38, while "The Christmas Can-Can" kicked its way to No. 18 on the Adult Contemporary Tracks chart.
The 10 Founding Members of Straight No Chaser are: Walter Chase a 2000 B.M.E. graduate; Jerome Collins a 1999 B.A. graduate; Patrick Hachey a 1996 B.M.E. and a 1998 M.M. graduate; Mike Itkoff a 1999 B.A. graduate; Charlie Mechling a 1999 B.A. graduate; Steve Morgan a 1999 B.S., and a 2010 M.B.A. graduate; Dan Ponce a 1999 B.S. graduate; David Roberts a 2000 B.A. graduate; and Randy Stine a 2002 B.A. graduate.