Honoree
Kevin Kline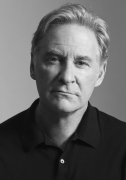 AWARDS
Tony Award (2017)

Best Leading Actor in a Play
Performance: Present Laughter

Honorary Degree (2014)

L.H.D
Doctor of Humane Letters
Location: Bloomington
Presenter: Michael A. McRobbie

Oscars (1988)

Best Supporting Actor
Performance: A Fish Called Wanda

Tony Award (1981)

Best Performance by an Actor--Musical
Performance: Pirates of Penzance

Tony Award (1978)

Best Performance by an Actor in a Featured Role--Musical
Performance: On the Twentieth Century

BIOGRAPHY
Kevin Delaney Kline, a St. Louis native, graduated IU's College of Arts and Sciences Speech and Theatre program with a B.A. in 1970. While he studied music during his first two years at IU, he switched to a theatre major as a junior and senior. In 1970, he received a scholarship to the newly formed Drama Division at the Julliard School in New York.
Over his career, Kline has won an Oscar in 1988 for Best Supporting Actor in the comedy hit, A Fish Called Wanda. He won three Tony's, the first for his role as Bruce Granit in On the Twentieth Century (1978); the second for his role of the Pirate King in the Pirates of Penzance (1981); and the third for his role in Present Laughter (2017). He has also received nominations for two Emmy Awards, two BAFTA Awards and five Golden Globe Awards.
In 2008, Kline earned the Outer Critics Circle Award for his performance as "Cyrano de Bergerac." Over three decades with The Public Theater, Kline has played numerous Shakespearean characters, including "Hamlet," "Richard III," "Henry V" and "King Lear" in addition to his run at The Lincoln Center Theater as "Sir John Falstaff."
In 2014, Indiana University awarded Kline with an Honorary Doctor of Humane Letters at a ceremony that took place at the start of the Jorgensen Guest Filmmaker lecture, which included a special screening of "A Fish Called Wanda" at the IU Cinema. The format of the ensuing lecture included an interview of Kline, conducted by Jonathan Michaelsen, chair of the Department of Theatre, Drama, and Contemporary Dance.