Honoree
Barbara McElroy Kunkler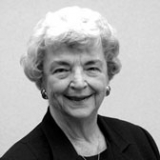 AWARDS
School of Nursing Special Recognition Award (2015)

Indiana University Purdue University Indianapolis (IUPUI)
G.N., 1951

IUPUI Spirit of Philanthropy Award (2011)
IUAA President's Award (2010)

Indiana University Purdue University Indianapolis (IUPUI)
G.N., 1951

Gertrude Rich Award (2001)

Indiana University Bloomington
G.N., 1951

BIOGRAPHY
Barbara Kunkler received a general nursing degree in 1951 from IU. She attended the Indianapolis campus (now Indiana University-Purdue University Indianapolis). Kunkler retired from physician relations for the IU School of Medicine in 1994.
Kunkler serves on the advisory board of the IU School of Nursing and on the board of the IU School of Medicine's J.O. Ritchey Society. From 1977-78, she was the president of the IU School of Nursing Alumni Association. Kunkler has also served as the school's affiliate representative on the IU Alumni Association's Executive Council.
A lifetime member of the IUAA, she was a member at large on the Executive Council from 1984-87 and on the IUAA Insurance Committee. Kunkler was a board member of the Woodburn Guild from 1994 to 2006. She received the IUAA's Gertrude Rich Award in 2001. She is one of the IU School of Nursing's 100 Alumni Legacy Leaders.
Kunlker and her husband, Arnold, have been dedicated supporters of future health care professionals through scholarship and service. The Kunklers have been generous contributors to the university. At the School of Nursing, they were among the lead donors to the Simulation Center for nursing education. They continuously contribute to the Jean Coffey Webster Nursing Scholarship, created by Kunkler and the B.S.N. Class of 1951. Their family members have also supported this fund through gifts honoring Dr. and Mrs. Kunkler in celebration of Christmas.