Honoree
Donna Berry Spears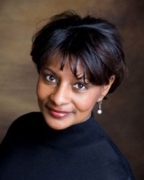 AWARDS
Bicentennial Medal (2019)
IUE Chancellor's Medallion (2015)

IUE Chancellor's Medallion
Location: Richmond
Presenter: Kathryn Cruz-Uribe

Gertrude Rich Award (2006)

Indiana University Bloomington
BS'79, MPA'81

BIOGRAPHY
Donna Spears is an IU alumna and member of the IU Board of Trustees. Spears earned an A.S. in dental hygiene from the IU School of Dentistry, an B.S. in public health education from the IU School of Medicine, and an M.P.A. in health systems administration from the IU School of Public and Environmental Affairs School. She was elected to the IU Board of Trustees by the alumni in 2018 on a platform that promised attention to recruitment, educational quality, tuition affordability, and economic development initiatives.
As an undergraduate, Spears was a Founders Scholar and a member of the IU African American Dance Company. In her early career, Spears worked as a dental hygienist, the license for which she still retains. Her entrepreneurial spirit arose in the 1990s, when she became the owner of Fitness Foundations, a company focused on public health education, fitness consulting, and personal training (1992-2005). She then worked for the Academy of Motion Picture Arts an Sciences (2003-2006). In 2011, she graduated from the Indiana Association of Realtors Leadership Academy and was named to the Graduate Realtor Institute Board of Governors. She currently serves on the executive committee of the Indiana Association of Realtors and is an associate broker for Coldwell Banker Lingle in Richmond, IN.
Spears has devoted much in time and treasure to Indiana University having served as a member of the IU East Advisory Board; the IU Alumni Association Executive Council; Woodburn Guild Board; IUAA Board of Managers, serving as the national chair from 2009-2010); founding member of he Women's Philanthropy Leadership Council; and Colloquium for the Women of Indiana University. She is an active member of her local community serving on the governing boards of the following organizations: Richmond Art Museum, Richmond Symphony Orchestra, Economic Development Council, Indiana Youth Institute, Indiana Association of Realtors, Girls, IN. of Wayne County, and the Wayne County Boys and Girls Club. Spears has received the IU East Chancellor's Medallion in 2016, named Realtor of the Year by the Wayne County Realtor Association in 2008, awarded the Pam Frantz Community Service Award in 2008 and 2017, and has received the IUAA Gertrude Rich Award in 2006.
Spears received the IU Bicentennial Medal in September 2019 in recognition of her distinguished service as a member of the IU Board of Trustees.