Honoree
Fred Glass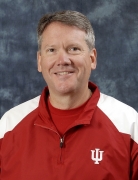 AWARDS
President's Medal for Excellence (2020)

Location: Bloomington, Indiana
Presenter: Michael A. McRobbie

Bicentennial Medal (2019)
McKinney School of Law Distinguished Alumni Award (2012)

Indiana University Purdue University Indianapolis (IUPUI)
J.D., 1984

BIOGRAPHY
Fred Glass was the vice president and director of intercollegiate athletics at Indiana University. He received his bachelor's degree from IU Bloomington and a J.D. from the McKinney School of Law at IUPUI.
Glass is known for his strides not only in making key coaching hires for IU athletics, but also for stressing excellence for student-athletes. The Graduation Success Rate for IU students participating in intercollegiate athletics has dramatically increased from 77% in 2011 to 91% most recently. Glass has led the much-needed effort to renovate and expand IU's aging athletic facilities, all without any use of tuition contribution, student fees or taxpayer money. Glass has had a relentless focus on improving the fan experience at IU athletic events. Under his leadership and desire to improve fan experience the average attendance at IU Football games has significantly increased over his years as Director of Athletics. He has also focused on preserving and improving the game atmosphere in Simon-Skjodt Assembly Hall, finishing in the top ten nationally in attendance for men's basketball, and having more than doubled the average home attendance for women's basketball.
Glass played a central role in several major sports initiatives in Indianapolis, including the development of Lucas Oil Stadium and the expanded Indiana Convention Center, as well as bringing major NCAA events to the capital city. Formerly a partner in the law firm Faegre Baker Daniels, Glass served as chief of staff to then-Gov. Evan Bayh from 1989 to 1993.
Glass received the IU Bicentennial Medal in August 2019 in recognition of his distinguished service to Indiana University as the vice president and director of intercollegiate athletics, and serving as a member of the president's executive cabinet. Glass received the President's Medal in July 2020 upon his retirement from IU in recognition of his long service to IU and IU intercollegiate athletics.