Honoree
Lowell E. Baier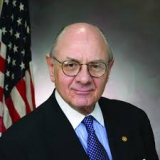 AWARDS
Presidents Circle Laurel Pin (2018)

Founder

Honorary Degree (2015)

LL.D
Doctor of Laws
Maurer School of Law Commencement
Location: Bloomington

Maurer School of Law Academy of Law Alumni Fellows (2014)
Maurer School of Law Distinguished Service Award (2007)

Indiana University Bloomington
LL.B., 1964

BIOGRAPHY
Lowell E. Baier received his B.A. in economics and political science from Valparaiso University in 1961. And, after graduating Indiana University with a law degree in 1964, his career has taken him from practicing attorney to entrepreneur, tireless advocate for natural resources and wildlife conservation, and now author.
While practicing law in Washington, D.C., he was approached by his congressman, Charles A. Halleck, R-Ind., LLB'24, to serve as page in the U.S. House of Representatives in 1956. In 1967, he formed Baier Properties Inc., a Bethesda, Md.-based developer of warehouses, residential properties, and award-winning office buildings and shopping centers.
In the early 1970s, Baier was one of 14 founders of the Wild Sheep Foundation, which has funded over $1 million annually to re-establish the habitat of the four species of wild sheep in North America, establishing similar programs in Russia and Mongolia. Since 1975, Baier has been active in the Boone and Crockett Club, America's oldest wildlife conservation organization. He took the lead in drafting President George H.W. Bush's wildlife conservation agenda in 1979 and led in the formation of Ph.D. programs in natural resources and wildlife conservation management at five universities. From 2004 to 2007, he led a national campaign to raise $6.5 million to purchase for the federal government the last and largest remaining piece of private land (24,550 acres) that was initially Theodore Roosevelt's Elkhorn Ranch.
Baier recently completed a book, "America's Crippling Battle for Its Lands, Endangered Species, and Their Critical Habitat: Inside the Equal Access to Justice Act." His next book, "Voices From the Wilderness: A Biography," which celebrates the 50th anniversary of the Wilderness Act, is expected soon.
He was named Citizen of the Year of Rockville, Md., in 1988, Conservationist of the Year by the National Fish and Wildlife Foundation in 2008, and in 2010 Outdoor Life magazine selected him as the Conservationist of the Year. He is the 2007 recipient of the IU's Maurer School of Law's Distinguished Service Award, is a Fellow of the Maurer School of Law Academy of Law, and received the IU President's Circle Laurel Pin in 2018.
In 2015, IU awarded him an Honorary Doctor of Laws at the Maurer School of Law spring commencement ceremony.