Honoree
Donald P. Dorfman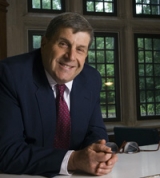 AWARDS
Maurer School of Law Academy of Law Alumni Fellows (2014)

J.D., 1957

Presidents Circle Laurel Pin (2014)

Benefactor

IUAA President's Award (2006)
Maurer School of Law Distinguished Service Award (2005)

Indiana University Bloomington
J.D., 1957

BIOGRAPHY
Donald Dorfman, class of 1957, is a dedicated alumnus of Indiana University and the Maurer School of Law and a distinguished defense attorney, committed to service to his clients, veterans and his alma mater.
Dorfman embodies the value of hard work, integrity and the transformative nature of higher education. His family did not have much money to invest in a college education, so Dorfman worked and saved money so he could attend IU, the college of his dreams. He also worked throughout his undergraduate and law school careers -- as a dishwasher, busboy, waiter and a human subject for the psychology department.
Upon graduating with his law degree in 1957, Dorfman was commissioned as a first lieutenant in the Judge Advocate General's Department of the U.S. Air Force. He later joined the Air Force Reserve and retired as a colonel. He settled in Sacramento, Calif., where he was a deputy district attorney for Sacramento County and a successful criminal defense lawyer.
Throughout his career, Dorfman has taken to heart the constitutional guarantee that all defendants deserve an ally and advocate of the highest order. He was the founder and first president of the Sacramento Criminal Lawyers Association, a member of the board of the Indigent Defense Panel and of the Peer Review Committee of the Sacramento County Bar Association. He is also a member of the board of Jewish Family Services.
Dorfman's service and philanthropy to Indiana University and the Maurer School of Law qualify as truly extraordinary. He is the president of the Sacramento chapter of the IU Alumni Association, was a member of the IU Alumni Association Executive Council, and has served on the Law School's Board of Visitors since 1997. During the university's Matching the Promise capital campaign, Dorfman established a need-based scholarship at the law school so he could assist students who likewise needed to work to complete their degrees. He has been an active recruiter for both IU and the law school, and he has single-handedly placed more Maurer graduates in California than any other alumnus.
Dorfman has been recognized for his legal assistance to men and women returning from service in the military. He is a member of the California State Committee of the Employer's Support of the Guard and Reserve, and he acts as an ombudsman for veterans who encounter employment difficulties when they return to civilian life. For this work, he received the Seven Seals Award, the highest award the organization confers. He has also served as the president of the Department of California Reserve Officers Association and is a recipient of its John C. Fr'mont Award.