Honoree
Karen L. White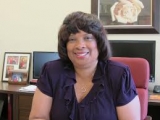 AWARDS
Bicentennial Medal (2019)
Dr. Charlie Nelms Alumni Award (2012)

M.S., 1976

E. Ross Bartley Award (1991)

Location: South Bend
Presenter: Thomas Ehrlich

BIOGRAPHY
Karen L. White graduated from Indiana State University in Terre Haute, Indiana, and went on to earn her master's degree from Indiana University Bloomington. She has served as the Vice Chancellor of Student Affairs at IU South Bend since 1999; served as Assistant Vice Chancellor of Student Affairs/Director, Freshman Division at IU South Bend from 1989-1999; and has served as the University's affirmative action officer, project director and several other positions in her long and stellar university career. She also served on the South Bend Community School Board of Trustees from 1988-1992.
She is currently the Vice-President of the Urban Enterprise Association and a member of the Morris Performing Arts Council. Karen White has been a member of the South Bend City Council since 2000 and served as Council Vice President in 2002 and President in 2003 and 2004. During her time as Council President, she implemented many innovative and creative ideas which resulted in better communication and openness in government.
White has received numerous awards and honors for her many civic and public services, including the E. Ross Bartley Memorial Award presented by Indiana University in recognition of meritorious and extraordinary administrative and supporting services. She received the 2012 Charlie Nelms Alumni Award for her dedication to ensuring access and success of students at IU South Bend. White is dedicating her many talents and efforts to "making a difference in the quality of life for the citizens of South Bend" and making the community a world-class 21st century city.
Karen White dedicates her efforts to promoting educational attainment, high quality public safety, capital improvements throughout the city, better community relations among all citizens, and open and honest communication.