Honoree
Jerrol Z. Miles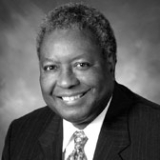 AWARDS
IUAA President's Award (2008)

B.S., 1970

IU Southeast Chancellor's Medallion (2005)

IU Southeast Chancellor's Medallion
Location: New Albany
Presenter: Sandra R. Patterson-Randles

BIOGRAPHY
Jerrol Miles graduated from IU with a bachelor of science degree in real estate administration in 1970. He attended the Kelley School of Business at IU Bloomington.
Miles is the current national president of the Neal-Marshall Alumni Club, a member of the IU Alumni Association Audit Committee and a board member for the Louisville/Southern Indiana Chapter of the IUAA. Miles served on the IU Presidential Search Committee, the Athletics Committee and the board of directors for the Kelley School of Business Alumni Association. He has volunteered with the IU Southeast campus as well, having been on the IU Southeast Board of Advisors and the search committees for two chancellors.
After 30 years in the banking industry, he now runs his own real estate company in New Albany, Ind., where he lives with his wife, Alice.