Honoree
Katherine C. Lazerwitz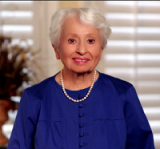 AWARDS
Partners in Philanthropy (2015)

Keystone Award

IU Northwest Chancellor's Medallion (1998)

IU Northwest Chancellor's Medallion
Location: Gary
Presenter: Hilda Richards

IUAA President's Award (1997)
BIOGRAPHY
Born and raised in northwest Indiana, Kathie Lazerwitz attended IU and received a BS in Business in 1949 and an MS in 1971. After graduating from IU Bloomington, Lazerwitz moved back to northwest Indiana. It was there, while working as a teacher, that she found her incredible talent as a tenacious volunteer leader and community organizer. She was instrumental in the successful 1967 campaign of Gary mayor Richard Hatcher. Despite the unpopularity of supporting African American candidates, Lazerwitz leading what would become one of the first successful campaigns for a major political office by a black candidate.
After her retirement from teaching, Lazerwitz brought her commitment to improving society through education and the arts to Indiana University. As co-chair for the Class of 1949 Campaign committee, she helped raise more than $500,000 for the Indiana University Art Museum. She and her late husband Jim established the Visiting Jazz Artists Endowment Fund at the Jacobs School of Music, which she continues to support annually. In addition to endowing two scholarships and an enrichment fund for special education teachers in the School of Education, she made a significant gift to WTIU Public Television for their children's program.
Other university organizations that have benefited from Lazerwitz's support and leadership include Athletics, the IU Auditorium, the College of Arts and Sciences, the Indiana Memorial Union, Information and Library Science, IU Libraries, IU Northwest, the Jacobs School of Music, the Kelley School of Business and the School of Public and Environmental Affairs. She also has served as the corresponding secretary for the University Women's Club and has belonged to the President's Circle. Lazerwitz received the Chancellor's Medallion in 1998 from IU Northwest and the Indiana University Alumni Association's President's Award in 1997.