Honoree
Michael S. Sutton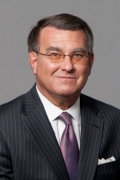 AWARDS
IUAA President's Award (1992)

B.S.

BIOGRAPHY
Michael Sutton is the senior vice president of commercial lending at Evansville Commerce Bank in Evansville, IN. He is also the former President and COO of the Bank of Evansville, which he was promoted to from Executive Vice President and CLO in 2005. He joined the bank in 2000 after spending over fifteen years in various positions throughout the Evansville banking community. He earned his B.S. in Accounting at Indiana University, and is a certified public accountant.
Sutton's community service includes past United Way Campaign Chairperson, President of the United Way Board, President of Evansville ARC Foundation Board, member of the Evansville Goodwill Industries Board, and member of the St. Mary's Foundation Board.