Honoree
Jeff Fettig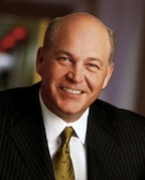 AWARDS
Bicentennial Medal (2019)
Partners in Philanthropy (2017)

The Keystone Award

Presidents Circle Laurel Pin (2014)

Benefactor

Kelley School of Business Academy of Alumni Fellows (2000)

Indiana University Bloomington
Kelley School of Business
B.A., 1979; M.B.A., 1981

BIOGRAPHY
After graduating with highest distinction from the Kelley School of Business, Jeff Fettig pursued his Master of Business Administration in finance, also from the Kelley School, in 1981. His successful career and leadership as chairman and CEO of Whirlpool Corp. led to the company's collaboration with Habitat for Humanity of Monroe County over the past seven years -- a partnership that continues today.
Jeff Fettig is active on the IU Foundation Board of Directors, the Kelley School of Business Dean's Council and the Kelley School Academy of Alumni Fellows.
The Fettigs also recently gave back to the IU chapter of Phi Gamma Delta, of which Jeff was an active member during his undergraduate career; the two spearheaded the construction of the fraternity's new house on campus. The Fettigs continue to be active in their local community of southwest Michigan, and their recently endowed scholarship at the Kelley School -- with preference toward direct-admit students from southwest Michigan and/or Tipton County, Indiana -- demonstrates their community-based philanthropy.