Honoree
Paul H. O'Neill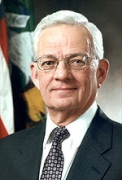 AWARDS
Bicentennial Medal (2019)
Honorary Degree (2014)

L.H.D.
Doctor of Humane Letters
IUB Commencement Ceremony
Location: Bloomington, Indiana
Presenter: Michael A. McRobbie

Kelley School of Business Academy of Alumni Fellows (1989)

Indiana University Bloomington
M.P.A., 1966

BIOGRAPHY
Paul O'Neill, who has a Master of Public Affairs degree from Indiana University, was secretary of the treasury under President George W. Bush from early 2001 until December 2002. He was deputy director of the Office of Management and Budget from 1974 to 1977. He also has been a widely respected leader in the business and nonprofit sectors, having headed Alcoa Inc. and International Paper and served as chairman of the RAND Corp.
Known as an outspoken pragmatist, O'Neill began his government career nearly 50 years ago as a systems analyst in the Veterans Administration. He was an official with the Office of Management and Budget in the Nixon and Ford administrations and chaired an advisory group on education for President George H.W. Bush.
From 1987 to 1999, O'Neill was chairman and CEO of Alcoa Inc., a Pittsburgh-based industrial giant that had more than 140,000 employees worldwide.
As a member of the Bush cabinet in 2001-02, O'Neill clashed with the president's political advisers over the need for a second round of tax cuts, environmental regulation, and other issues. After leaving office, he said the administration had made decisions on the basis of ideology, not data and analysis. His criticisms of the administration were captured in the 2004 book The Price of Loyalty: George W. Bush, the White House, and the Education of Paul O'Neill, by Ron Suskind.
O'Neill earned his MPA degree from IU in 1966, through an academic program that was a forerunner of the School of Public and Environmental Affairs.