Honoree
Sue Sanders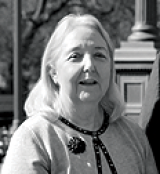 AWARDS
Partners in Philanthropy (2017)

Cornerstone Award

IU Southeast Distinguished Alumni Award (2017)

B.S., 1981

Presidents Circle Laurel Pin (2016)
Presidents Circle Laurel Pin (2015)

Benefactor

IU Southeast Chancellor's Medallion (2006)

IU Southeast Chancellor's Medallion
Location: New Albany
Presenter: Sandra R. Patterson-Randles

BIOGRAPHY
Sanders earned her bachelor's degree in business from Indiana University Southeast in 1981. Her husband, the late Judge Carlton E. Sanders, received his bachelor's in business management from IU Southeast in 1972. Since that time, both played an active role in philanthropy, volunteerism and advocacy for the regional campus and its surrounding community.
After a successful career in information systems technology, Sue Sanders retired in 2000 and dedicated herself to improving health care and nursing facilities in southern Indiana. Realizing IU's nursing graduates were in high demand and the region had a shortage of nurses, she led the charge to expand the IU Southeast nursing program by providing the foremost gift for the construction of the Judge Carlton and Sue Sanders Laboratory for Nursing Education, completed in 2014. Since then, she has been an advocate for IU Southeast nursing students and their futures throughout the Midwest.
The Sanderses' generosity was not limited to IU Southeast's nursing programs. Sue made sizeable contributions to the IU Southeast Honors Program; founded the Judge Carlton E. and Sue Sanders Chair in Business and Economics; endowed the Sanders Speaker Series; and created an international study scholarship for the campus. The Sanders Training Lab and Sanders Professional Sales Center are also namesakes of their philanthropic support toward IU Southeast.
In 2006, the Sanderses received IU Southeast's Chancellor's Medallion to recognize their service to the campus and New Albany, Indiana. In 2015, they were recognized with the IU Presidents Circle Laurel Pin for their commitment of more than $4 million to IU Southeast, and they were most recently named Distinguished Alumni by the IU Southeast Alumni Board of Directors.
Sue now serves on the IU Southeast Board of Advisors, the board of the Community Foundation of Southern Indiana and the advisory board of the Salvation Army of Southern Indiana.