Honoree
Anthony J. Moravec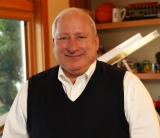 AWARDS
Partners in Philanthropy (2016)

Cornerstone Award

Presidents Circle Laurel Pin (2016)

Fellow

IU Bloomington Provost's Medal (2011)

IU Bloomington Provost's Medal
Location: Bloomington
Presenter: Karen Hanson

BIOGRAPHY
It was a great day for Indiana University when Tony Moravec attended his first event at the IU Art Museum. Eager to learn more about art - an area he knew little about at the time - and inspired by Director Heidi Gealt (now emerita director), Moravec took his first tour of the museum in 1998. Ever since, the businessman from Columbus, Indiana, has been a steadfast supporter of the IU Art Museum.
A few years later, Moravec joined the museum's National Advisory Board, serving as an exceptional leader during the Matching the Promise campaign, which raised more than $20 million - surpassing its goal by 117 percent. During the campaign, Moravec worked diligently to increase support for a special exhibition and research project on drawings by the Venetian master Domenico Tiepolo (1727 - 1804).
The Tiepolo exhibition, organized by Gealt, opened in Bloomington and then traveled to the Frick Collection in New York City and to the Iris and B. Gerald Cantor Center for Visual Arts at Stanford University. Without Moravec's efforts, the IU Art Museum would not have received such high-profile, national recognition of its outstanding scholarship and research on Tiepolo.
Stirred by the Tiepolo exhibition, Moravec began assembling his own remarkable collection of Old Master drawings, including a series of scenes from the New Testament. In 2010, he donated the works to the IU Art Museum, making it the largest repository of such drawings in the world, behind the Louvre in Paris and the Morgan Library and Museum in New York City.
In addition to supporting the museum's collections, Moravec's generosity led to the IU Art Museum becoming the first university museum in the Big Ten to receive an Andrew W. Mellon Foundation endowment for a senior academic officer position in 2012. With the establishment of the Andrew W. Mellon and Anthony J. Moravec Senior Academic Officer position, more than 11,000 IU students annually engage in programs tailored to their coursework and study that use the museum's diverse collections.
Moravec is a founder of Applied Laboratories, Inc. and president of Blairex Laboratories, Inc., and owner of Zaharako's Ice Cream Parlor and Museum. In a speech at Stanford University for the Tiepolo exhibition opening, IU President Michael A. McRobbie said, "What may surprise you is that Tony is not an IU alum. He does not even live in Bloomington, but as a distinguished Columbus businessman, he understands the vital role IU plays as an educational, research, and cultural resource for Indiana and the nation."
IU Art Museum Director David Brenneman said, "Tony's outstanding direction and his strong stewardship have created unprecedented opportunities for the IU Art Museum. His generosity and his support have helped make the IU Art Museum one of the foremost university art museums in the country."