Honoree
Richard McKaig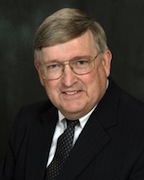 AWARDS
IU Bloomington Provost's Medal (2009)

IU Bloomington Provost's Medal
Location: Bloomington
Presenter: Karen Hanson

IU Foundation President's Medallion (2008)
IU Foundation President's Medallion (2003)
BIOGRAPHY
Richard McKaig retired in July 2009 after 38 years of service to Indiana University. In his last administrative role as the vice chancellor for student affairs and dean of students at Indiana University Bloomington, he supervised student life services and programs in the Division of Student Affairs. McKaig worked closely with student groups throughout his tenure at IU. McKaig, who came to IU in 1971 as the Student Government Advisor, has served as an associate professor of education since 1991.
McKaig attended Ball State University in Muncie, IN, receiving his B.S. and M.A. in 1966 and 1967 respectively. He began his career in student affairs as the Director of Student Activities at University of Wisconsin-Stevens Point. When he came to Bloomington, he would spend the next four decades in a variety of positions including Vice Provost for Student Affairs, Vice President for Student Affairs, Director of Student Activities, and Assistant Director of Student Activities. During his tenure, he became known as the "fraternal Dean" due to his advocacy for the Greek system on campus and his work as the Executive Director of the Center for the Study of the College Fraternity and Director of the Interfraternity Institute.
In 1981, the IU Student Government Association created the McKaig Scholarship to recognize outstanding service to campus student government. In 2005, McKaig was presented the Scott Goodnight Award for Outstanding Performance as dean by the National Association of Student Personnel Administrators, the highest honor of its kind. IUB awarded McKaig with the 2009 Chancellor's Medallion for his steadfast service to the university.