Honoree
George P. Smith, II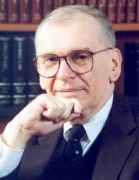 AWARDS
Presidents Circle Laurel Pin (2013)

Benefactor

Maurer School of Law Academy of Law Alumni Fellows (2007)
Honorary Degree (1998)

LL.D.
Doctor of Laws
Commencement
Location: Indianapolis
Presenter: Myles Neil Brand

Distinguished Alumni Service Award (1985)

Kelley School of Business
B.S., 1961; J.D., 1964

BIOGRAPHY
In a career of teaching and prolific scholarship in the fields of law, medicine, and science that spans more than three decades, George P. Smith II has made enormous contributions to the careers and lives of students throughout the world. During these years, he has remained a devoted alumnus of Indiana University, helping the IU community in many ways.
A native of Wabash, Indiana, Smith earned a bachelor of science degree from the IU School of Business in 1961. He graduated from the IU School of Law'Bloomington in 1964, and went from there to Columbia University Law School, where he earned an LL.M., and the Yale Law School, where he was a senior fellow in the Commonwealth Program in Law, Science, and Medicine. For the past 20 years he has served on the faculty of the Columbus School of Law at The Catholic University of America, Washington, D.C., where he holds the rank of full professor. He was honored as the professor who most influenced law studies by Catholic University's Class of 1996.
Smith's scholarly output is vast and significant. He has published more than one hundred scholarly works, including 11 books; eight monographs; 17 articles on international, comparative, or maritime law; 44 articles on bioethics, medicine and technology, or family law; approximately two dozen articles on legal education, jurisprudence, and property and environmental law; and a wide range of reviews and essays. Reviews of his work often cite Smith's willingness to tackle challenging topics. For example, a reviewer of a collection of Smith's essays, NEW BIOLOGY: LAW, ETHICS, AND BIOTECHNOLOGY, said: "This book will inform, irritate, exasperate, and illuminate the reader. Such is the controversy of the topic the author has tackled for the lawyer and the citizen who is brave enough to contemplate our biological future."Another reviewer describes Smith as a "prescient prophet of the New Biology.. . committed to looking into dark places in order to shed a discernable light into what is seen there."
Smith's "discernable light"'and his willingness to share it'is apparent in the list of more than 50 prestigious institutions that have invited him as a visiting professor, lecturer, fellow, or scholar. These include the Hoover Institution at Stanford University, Yale University, Columbia University, the University of Virginia, Duke University, Northwestern University Medical School, Trinity College of Dublin University, and the Biblioteca Apostolica Vaticana in Rome. Smith has held a Fulbright fellowship and a Fulbright professorship at the University of New South Wales in Sydney, Australia. Also among his contributions is recent service as consultant to the International Bioethics Committee, UNESCO Declaration on The Protection of the Human Genome, in Paris, France.
Smith has been a fellow at the IU Institute for Advanced Study, which awarded him the Citation of Honor in 1985. That same year he was given the IU Distinguished Alumni Medallion and Citation for Achievements in the Legal Profession, as well as a Distinguished Alumni Service Award.
Smith is a generous contributor to many facets of Indiana University, including the IU Musical Arts Center, Auer Hall, the Indiana Memorial Union Arts Guild, and the IU Auditorium. He is the founding benefactor of the George P. Smith II Distinguished Professorship and Chair of Law and Legal Research at the IU School of Law, and a member of the school's Board of Visitors. According to Alfred C. Aman Jr., former dean of the IU School of Law'Bloomington, "Professor Smith's support of IU and his devotion to it have been a central focus of his adult life." Smith, he says, "is someone who never says 'no' when Indiana University is involved."