Honoree
Robert Charles Bucheri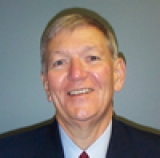 AWARDS
IU Kokomo Alumni Hall of Fame (2013)

Indiana University Kokomo

Thomas Hart Benton Mural Medallion (2012)

IUK Trustee Reception
Location: Kokomo
Presenter: Michael A. McRobbie

IU Kokomo Distinguished Service Award (1997)

B.S., 1975

BIOGRAPHY
R. Charles Bucheri, "Chuck" graduated from Kokomo High School in 1966. After a year at IU Kokomo, he enlisted in the Air Force where he was ultimately stationed at Clark AFB in the Philippines. There Chuck met the love of his life, Illuminada Caballes (Luming), and they were soon married.
Upon his return to Indiana, Chuck graduated from Indiana University and later became a Certified Public Accountant. A position at Geo. S. Olive launched his accounting career. Later, Chuck partnered with Brian Hufford to start their own accounting firm. That business developed over the years into the accounting firm of Bucheri, McCarty, and Metz, with Chuck as a senior partner.
Chuck built solid friendships over the years in Kokomo from high school and into his adult life as a businessman and community leader. He was active in the local community and a generous benefactor to many causes. Among the many community, social and business organizations that he actively participated in were the Rotary Club, Inventrek, City Revolving Loan Board, IUK Advisory Board, St. Joan of Arc Parish, Indiana CPA Society, Community First Bank, Kokomo County Club Board, Chamber of Commerce Board and the Community Foundation of Howard County.