Honoree
James R. Hodge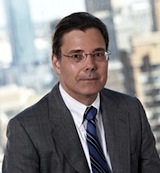 AWARDS
Bicentennial Medal (2019)
Presidents Circle Laurel Pin (2016)

Founder

Kelley School of Business Academy of Alumni Fellows (2013)

Indiana University Bloomington
Kelley School of Business
Department of Finance
B.S. 1974

Partners in Philanthropy (2013)

Cornerstone Award

BIOGRAPHY
James Hodge is a passionate alumnus, devoted volunteer and loyal supporter of IU and the Kelley School of Business. He set the philanthropic bar for his peers on the Kelley School of Business Dean's Council during the Matching the Promise Campaign for Bloomington as both a donor and volunteer. Proactively providing introductions to fellow alumni and assisting with follow-up that led to additional gifts, he was instrumental in the Kelley School achieving its campaign goal.
Hodge is also a member of the IU Foundation Board of Directors, serving on the investment committee. Always willing to heed IU's call, Hodge frequently hosts visiting IU students interested in learning more about the hedge fund industry. The Hodge Hall Undergraduate Center, which is still under construction, was named in honor of his lifelong commitments to the Kelley School of Business. Thanks to Hodge's support, the new facility will add vital classroom space and a student commons; improved technology that will allow real-time interaction with business leaders and other students around the globe; a room to host large gatherings and conferences; and a home for the Indiana Business Research Center.
In April, Hodge was inducted into the Kelley School's Academy of Alumni Fellows. Hodge is president and chairman of the investment committee at Permal Asset Management in New York. He manages the firm's flagship product, Permal Investment Holding. Hodge earned a Bachelor of Science in finance from the Kelley School of Business in 1974 and a master in business administration from Harvard University in 1979.