Honoree
Jimmie L. McMillian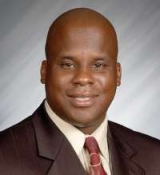 AWARDS
McKinney School of Law Distinguished Alumni Award (2017)

Indiana University Purdue University Indianapolis (IUPUI)
Robert H. McKinney School of Law
B.A., 1998; J.D., 2002

IUPUI Maynard K. Hine Medal (2013)
Dr. Charlie Nelms Alumni Award (2008)

B.A., 1998; J.D., 2002

BIOGRAPHY
Jimmie L. McMillian is a partner in Barnes & Thornburg LLP's Indianapolis office and a member of the Litigation Department. He represents clients on a variety of legal matters, including products liability claims, personal injury lawsuits, contract disputes and criminal defense matters.
He received his B.A. degree in political science in 1998 from Indiana University Bloomington and his J.D. degree in 2002 from the Indiana University School of Law–Indianapolis. He is admitted to practice law in the state of Indiana and the U.S. District Courts for the Northern and Southern Districts of Indiana and is a certified civil mediator.
McMillian is a member of the National Bar Association, Indiana Bar Association, Indianapolis Bar Association, Marion County Bar Association, and Kappa Alpha Psi Fraternity, Inc. In 2007, National Bar Association President Vanita Banks appointed McMillian to be her Deputy Chief of Staff. He also serves as a member of the Board of Directors for Reach for Youth, Inc. and participates in their Teen Court Program, a juvenile diversion program for first-time offenders. In 2005, he received Barnes & Thornburg's Pro Bono Attorney of the Year Award and the Honorable Carr L. Darden Leadership Award. In 2006, he was recognized by The Indiana Lawyer as one of 10 "Up and Coming Lawyers" and received the publication's Leadership in Law Award. He was recognized by the Indianapolis Business Journal as one of 2008's "Forty under 40," an award attributed to the top 40 Indianapolis professionals under 40.
In 2009, McMillian received the "Nod to Professionalism Award" from the Indianapolis Bar Association. He also received the Indiana State Bar Association's Rabb Emison Award in recognition of the significant contribution made in advancing opportunities for minority lawyers in legal employment and the legal profession. He also received the Indiana Lawyer's "Diversity in Practice Conference Attorney Award" in recognition of his commitment to diversity in the legal community.