Honoree
Stephen L. Ferguson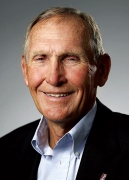 AWARDS
Bicentennial Medal (2019)
Honorary Degree (2018)

L.H.D.
Doctor of Humane Letters
IU Undergraduate Commencement
Location: Bloomington
Presenter: Michael A. McRobbie

Presidents Circle Laurel Pin (2018)
Maurer School of Law Academy of Law Alumni Fellows (2011)

Indiana University Bloomington
J.D. 1966

BIOGRAPHY
Stephen "Steve" Ferguson received his A.B. from Wabash College in 1963 and a J.D. with distinction from the Indiana University School of Law in 1966 (Order of the Coif). Ferguson is chairman of the board for the Cook Group Incorporated of Bloomington, Indiana. This parents company oversees companies globally involved in the research, development, manufacturing, and sale of medical devices. Previously, he was a partner in the law firm of Ferguson, Ferguson & Lloyd (1966 to 1990) and remains of-counsel with the firm Ferguson & Ferguson. Ferguson served four terms in the Indiana House of Representatives from 1967 to 1974. In addition, he's engaged with many organizations at the community, state, and national level.
Ferguson is a former president of the IU Board of Trustees as well as a former member of the IU Foundation Board of Directors. He has contributed to the betterment of the university through other acts of service and generosity to many IU schools and organizations. After severe stormed felled more than 300 trees on the Bloomington campus, Steven and his wife, Connie, donated 150 trees. In 2020, IU announced the Stephen L. and Connie J. Ferguson International Center which will provide space, programming, and support services for students studying abroad and assist international students. Steve Ferguson and his wife are current members of Hoosiers for Higher Education and Steve was formerly a member of the Indiana Commission for Higher Education.
Ferguson was inducted into the Maurer School of Law Academy of Law Alumni Fellows in 2011 for his personal achievements and dedication to the highest standards of his profession. In 2018 he was recognized for his sustained support of Indiana University and was inducted to the Presidents Circle by the IU Foundation and received a Doctor of Humane Letters from the university.
Ferguson received the IU Bicentennial Medal in September 2019 in recognition of his distinguished service as a former member and chairman of the IU Board of Trustees.