Honoree
Sidney Eskenazi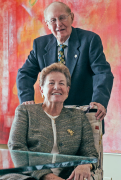 AWARDS
Bicentennial Medal (2019)
Honorary Degree (2018)

L.H.D.
Doctor of Humane Letters
IU Undergraduate Commencement
Location: Bloomington, Indiana
Presenter: Michael A. McRobbie

Presidents Circle Laurel Pin (2018)

Founder

Presidents Circle Laurel Pin (2013)

Benefactor

Maurer School of Law Academy of Law Alumni Fellows (2010)

J.D. 1953

IUPUI Spirit of Philanthropy Award (2007)
IUPUI Spirit of Philanthropy Award (1991)
BIOGRAPHY
Sidney D. Eskenazi grew up on the south side of Indianapolis during the hard times of the Great Depression. He began working at age 13 to help his family during difficult times. Because of the motivation and help of an uncle, Eskenazi was able to attend Indiana University. There, he received a Bachelor of Science degree, met his wife, Lois, and completed a J.D. in 1953.
Following his education, Eskenazi built a successful career as a commercial real estate developer and lawyer. He founded Sandor Development in 1963. Today, the company owns and manages more than 7 million square feet of retail space comprising 70 developments in 23 states. He also served as managing partner of an 18-member Indianapolis law firm.
Eskenazi and his wife have been generous in giving back to their community and their alma mater. In 1970, they endowed a scholarship fund for students at both the Bloomington and Indianapolis law schools. They have also established scholarships at the Herron School of Art and Design and the IU Medical School, and have made endowment gifts to the Jewish Community Center-Indianapolis, the Hooverwood Jewish Home and the Indianapolis Hebrew Congregation. In 2007, Herron honored the Eskenazis by naming its new building Eskenazi Hall in recognition of their philanthropy. In 2011, the Eskenazis provided a $40 million to the Eskenazi Health Foundation new hospital facilities in downtown Indianapolis. The new hospital and and health system were named in the Eskenazi's honor.
In 2019, The Indiana University School of Art, Architecture + Design announced a landmark gift of $20 million from philanthropists Sidney and Lois Eskenazi. This gift, the largest in the school's history, coincided with the university's celebration of IU Day. As a result, the school will be renamed the Sidney and Lois Eskenazi School of Art, Architecture + Design in recognition of the couple's generosity and longstanding commitment to both IU and the arts. The Eskenazis' gift will support student scholarships, faculty development, academic programs, research initiatives and facility support for the school, which offers degree programs in 14 areas of study.
In 2018, Indiana University awarded Sidney Eskenazi with an Honorary Doctor of Humane Letters at its spring undergraduate commencement ceremony in Bloomington, Indiana for his outstanding achievement in the arts and humanities, and for his continued community engagement and public service.