Honoree
Ezra H. Friedlander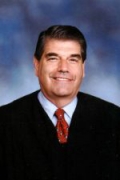 AWARDS
Bicentennial Medal (2019)
IUPUI Spirit of Philanthropy Award (2018)
Presidents Circle Laurel Pin (2016)

Benefactor

Distinguished Alumni Service Award (2015)

Indiana University Bloomington
Maurer School of Law
B.A. 1962, LLB 1965

Maurer School of Law Academy of Law Alumni Fellows (1998)

Indiana University Bloomington
Maurer School of Law
B.A. 1962, LLB 1965

BIOGRAPHY
Ezra H. Friedlander is the presiding judge of the Court of Appeals' Second District, appointed to the Court of Appeals by Governor Evan Bayh in January 1993. At Indiana University, he serves on the dean's advisory board of the College of Arts and Sciences, including as chairman of the committee on directors. He also serves on the board of directors of the Indiana University Foundation, previously chaired its committee on directors, and was a member of the Foundation's executive committee.
He is a member of the Maurer School's Academy of Law Alumni Fellows, the highest honor the school can bestow upon its graduates, and was previously the president of the school's Alumni Board. He has also endowed a scholarship at the IU Maurer School of Law.
Friedlander graduated from Indiana University with a bachelor's degree in history and government in 1962, and a J.D. in 1965. He practiced civil law for 27 years before his appointment, and acted as a deputy prosecutor in Lake and Marion Counties and as a corporate counsel to the Secretary of State. He is a former co-chairman of the Indiana Supreme Court's Commission on Race and Gender Fairness. Friedlander also is a member of the Indiana State and American Bar associations; American Judicature Society; and the Indiana Judges Association. He is a graduate of New York University's Appellate Judges Institute of Judicial Administration. He is a past member of the Board of Directors of the Indiana State Bar Association and past chair of its Young Lawyers Section.
In Hamilton County, he is active in community efforts, having participated in the local organizing committee for the 1991 PGA Championships, the 2005 Solheim Cup, the 2002 World Basketball Championships; and founded the Carmel Youth Soccer Association.