Honoree
Robert H. McKinney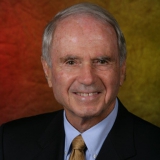 AWARDS
Bicentennial Medal (2019)
Honorary Degree (2018)

L.H.D.
Doctor of Humane Letters
IUPUI Commencement Ceremony
Location: Indianapolis, Indiana
Presenter: Michael A. McRobbie

Partners in Philanthropy (2017)

Herman B Wells Visionary Award

IUPUI Spirit of Philanthropy Award (2017)
Presidents Circle Laurel Pin (2014)

Founder

Maurer School of Law Academy of Law Alumni Fellows (1999)

J.D. 1952

BIOGRAPHY
Bob McKinney was born and raised in Indianapolis. He earned a Bachelor of Science in engineering from the U.S. Naval Academy and served on destroyers in the Pacific Theater for three years near the end of World War II. He also had a temporary appointment to Gen. MacArthur's staff before returning to law school in Indianapolis in 1949. He was later called upon to serve in the Korean War for two years, after the completion of his law degree from Indiana University.
Until his retirement in 2005, McKinney was chairman and CEO of First Indiana Corp., parent company of First Indiana Bank (now BMO Harris Bank). He was chairman and CEO of the Somerset Group Inc. and a founding partner of Bose McKinney & Evans LLP in Indianapolis. His commitment to community-based banking prompted President Jimmy Carter to appoint McKinney as chairman of the Federal Home Loan Bank Board, the Federal Savings and Loan Insurance Corp. and the Federal Home Loan Mortgage Corp.
Virtually unparalleled is his support of Indiana University, McKinney served on the Indiana University Board of Trustees from 1989 to 1998, including one year as its president. He was chairman of the board of advisors of IUPUI and advising director to the IU School of Public and Environmental Affairs. He is currently a member of the Robert H. McKinney School of Law Board of Visitors and the Indiana University Foundation Board of Directors. He has also served the former Center on Congress at IU as an advisory board member.
McKinney's financial support of Indiana University includes the naming gift to the IU Robert H. McKinney School of Law in Indianapolis, which also provides funding for five endowed chairs and an endowment to fund the McKinney Family Scholarships. The Robert H. McKinney Law Professorship, the Bose McKinney & Evans Sherman Minton Moot Court Competition and the V. Sue Shields Scholarship are also beneficiaries of his generosity. Further, he has contributed to the Conservation Law Center and SPEA.
McKinney and his five children actively manage the McKinney Family Foundation, with an emphasis on solving Indiana's environmental issues.
Bob McKinney's motto, "doing well by doing good," is proof of his extraordinary commitment to Indiana University's students, faculty, staff and friends.
In 2018, Indiana University awarded Robert H. McKinney with an Honorary Doctor of Humane Letters at its spring commencement ceremony in Indianapolis, Indiana for his outstanding achievement in the arts and humanities, and for his continued community engagement and public service.
McKinney received the IU Bicentennial medal in September 2019 in recognition of his distinguished service on the Indiana University Board of Trustees.