Honoree
Jacqueline A. Simmons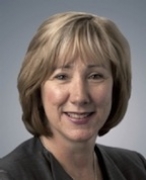 AWARDS
Bicentennial Medal (2019)
Maurer School of Law Academy of Law Alumni Fellows (2004)

J.D. 1979

BIOGRAPHY
Jackie Simmons is Indiana University's vice president and general counsel. Simmons earned a bachelor's degree with honors from the University of Notre Dame and a J.D. at the IU Maurer School of Law. Simmons serves as chief legal officer, representing and directing representation of IU in all legal matters. She directs the university's in-house counsels and outside counsel retained to represent the university's interests, and she supervises other offices as assigned by the president, including internal audit and affirmative action.
Prior to coming to Indiana University, she practiced law with Faegre Baker Daniels where she became managing partner of the Indianapolis office after having served as practice group leader of the firm's international practice area. She worked closely with numerous universities and for-profit educational institutions regarding establishment of global alliances, contracts, environmental matters, international employment and technology licensing issues. Joining Reilly Industries, Inc. in 1994, Simmons served as general counsel, providing legal counsel to the corporation and its board of directors and managing all legal matters for the corporation. Subsequently, she became vice president and general manager in 2001, administering all aspects of sales, manufacturing, commercial negotiations and global profits and losses for three strategic business units.
Simmons has been an adjunct faculty member in the Maurer School of Law since 1991, teaching a variety of environmental-related courses. She has also taught at the Lex Mundi Institute in California. Additionally, Simmons currently serves on the board of visitors of the IU Maurer School of Law, on the Board of Directors of the Julian Center, a resource for victims of domestic violence and sexual assault, and the IU Foundation Women's Philanthropy Council, of which she is a founding member.
Simmons received the IU Bicentennial Medal in August 2019 in recognition of her distinguished service as vice president and general counsel for Indiana University.