Honoree
Milton R. Stewart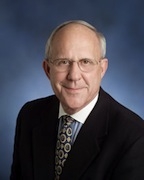 AWARDS
Bicentennial Medal (2019)
Presidents Circle Laurel Pin (2016)

Benefactor

Maurer School of Law Academy of Law Alumni Fellows (2009)

B.A., J.D. 1971

BIOGRAPHY
Milton R. Stewart is an outstanding lawyer and engaged community member, who has established himself as a leader in the legal profession, particularly as business and law become increasingly global.
He received a bachelor's degree in government from IU, and then went on to graduate summa cum laude from the Maurer School of Law in 1971. He was selected as an Order of the Coif during his time at IU. After finishing his legal education, he served in the U.S. Army as a Second Lieutenant. He then moved to the Pacific Northwest, where he joined the firm of Davis Wright Tremaine in Portland. Stewart served for 13 years on the Firm Management (Executive) Committee of Davis Wright Tremaine, an international, full-service firm with nine offices, including a Shanghai office. He currently serves as the firm's Client Relations Partner.
During his distinguished career, Stewart's practice has focused on structuring merger and acquisition transactions, reorganizations, and management buyouts. He is experienced in structuring and advising joint ventures and strategic alliances, both domestically and internationally, and has served as general counsel for several Northwest companies. His business experience also includes his ownership and operation of manufacturing, distribution, and retailing enterprises.
Stewart frequently speaks and publishes regarding mergers and acquisitions, joint ventures, and the globalization of the legal profession. He is the co-author of Mergers & Acquisition Law 2007 and Winning Legal Strategies for Mergers & Acquisitions and authored International Joint Ventures: A Practicum for the Journal of the Association of Corporate Counsel. He has taught business development and client relations skills to international lawyers at the Lex Mundi Monterey Institute for the past five years. He also consults to international law firms on these topics. His peers selected him as a "Super Lawyer" in 2006, and he received the Rella Lossy Award from the Legal Marketing Association, Bay Area Chapter recognizing his professionalism and career-long contributions to the practice of law firm marketing. Two lesser-known facts are that from 1982 to 1984 he owned and operated a northwest fine chocolate company, and in 2007, he spent the year on Wall Street in NYC as special counsel to AIG Corporation.
Stewart is also active in service to his community, his profession, and to Indiana University. He is a past member and current advisor to the Board of Directors of the National Multiple Sclerosis Society. He recently served as a member of the Board of Directors of Lex Mundi, the worldwide association of international law firms. His commitment to Indiana University includes membership in the Law School's Board of Visitors, the IU Foundation's Board of Directors, and the IU Art Museum's Board of Directors.