Honoree
John N. Williams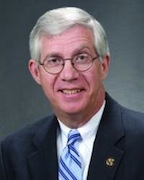 AWARDS
IUPUI Spirit of Philanthropy Award (2019)
President's Medal for Excellence (2019)

IUAA Board of Trustees Reception
Location: Fort Wayne, IN
Presenter: Michael A. McRobbie, President, Indiana University

School of Dentistry Honorary Member Award (2013)
BIOGRAPHY
Honorary alumnus John Williams accepted the IU School of Dentistry deanship in 2010 after serving as dental dean at the University of North Carolina (2005-10) and the University of Louisville (1999-2005). He is a graduate of the University of Louisville's dental and MBA programs. He was honored in part for his leadership in working with IU's dental faculty and staff to develop a strategic mission for the school and in organizing a building campaign for new clinical and research facilities.
Dr. John and Lucy Williams's personal philanthropy to the Indiana University School of Dentistry (IUSD) and other campus initiatives sets a strong example for all to follow. Recognized as Presidents Circle members in 2018, John and Lucy have most recently co-named one of the eight comprehensive care clinics in the new James J. Fritts, DDS Clinical Care Center; they also established the Dr. John N. and Lucy S. Williams Academic Scholarship at the IUSD as part of For All: The Indiana University Bicentennial Campaign.
Williams' extensive work with the American Dental Association Commission on Dental Accreditation has included his roles as commissioner and chair of many comprehensive site visits to U.S. dental schools. He holds a position of prominence in the American Dental Education Association, having completed a term as vice president of the Council of Deans in 2012. He briefly served in 2012 as the IUPUI campus's interim executive vice chancellor, and for the past year he led the recently completed search for a new dean for the Indiana University School of Medicine. Dr. Williams served as dean of the IUSD since July of 2010 and will fulfill his term as dean upon his retirement at the end of June 2019.