Honoree
Jesse E. Eschbach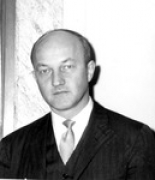 AWARDS
Honorary Degree (1986)

LL.D.
Doctor of Laws
Law School Dedication
Location: Bloomington
Presenter: John W. Ryan

Distinguished Alumni Service Award (1984)

B.S., 1943; J.D.B., 1949; LL.D., 1986

Maurer School of Law Academy of Law Alumni Fellows (1984)

Indiana University Bloomington
J.D. 1949

BIOGRAPHY
Jesse Ernest Eschbach, one of the most prominent alumni of the Indiana University School of Law, served as a Judge of the United States Federal court of Appeals, for the Seventh Circuit in Chicago, and possessed a meticulous attention to detail and a profound knowledge of the law. Eschbach served IU as a trustee for two terms, and was a member of the visiting Committee of the law school.
Before receiving the J.D. degree with Distinction in 1949, he was a member of the editorial staff of the Indiana Law Journal, was named to the Order of the Coif, and was awarded the Hastings Scholarship. Eschbach practiced law in his home town, Warsaw, Indiana, and served as a city attorney and deputy prosecutor until 1962 when he was honored by appointment as a United States District Judge for the Northern District of Indiana.
As Chief Judge of the District Court in Fort Wayne, 1974-1981, he was known for calmly and reasonably adjudicating cases, and reaching unemotional decisions based solely on the facts and the pertinent laws. Eschbach was named "His City's Most Trusted Leader" as a tribute to the integrity and dignity that marked his courtroom behavior.