Honoree
Roderick R. Paige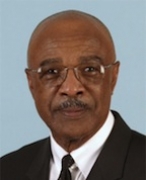 AWARDS
Honorary Degree (2017)

L.H.D
Doctor of Humane Letters
Undergraduate Commencement
Location: Bloomington
Presenter: Michael McRobbie

Distinguished Alumni Service Award (2013)

M.S. 1962, Ph.D. 1970

BIOGRAPHY
Roderick R. Paige of Houston, Texas, received a bachelor's degree from Jackson State University in 1955. He then completed an M.S. in Physical Education and PhD in Physical Education from Indiana University in 1962 and 1970 respectively. He rose from a college dean and school superintendent to become the seventh U.S. secretary of education, serving from 2001 to 2005.
As a trustee and officer of the Houston Independent School District's board of education, Paige co-authored a statement of purpose and goals for the troubled district that called for fundamental reform. He strengthened the school system both organizationally and academically by addressing school overcrowding, staffing, pay, performance-based instruction and support services and programs.
In 1994, he became superintendent of the Houston schools, and his reforms laid the groundwork for his appointment by President George W. Bush as U.S. secretary of education. He was the first African-American to serve in that position.
In 2017, Indiana University awarded Paige with an Honorary Doctor of Humane Letters at its spring undergraduate commencement ceremony in Bloomington, Indiana for outstanding achievement in the arts and humanities, and for community engagement and public service.