Honoree
Edwin C. Marshall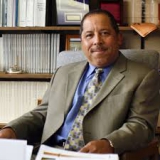 AWARDS
IUPUI Spirit of Philanthropy Award (2019)
Distinguished Alumni Service Award (2019)
Bicentennial Medal (2019)
President's Medal for Excellence (2013)

Retirement Reception Ceremony
Presenter: Michael A. McRobbie

School of Optometry Foley House Basement Key Award (2000)
BIOGRAPHY
Edwin C. Marshall is one of the nation's leading professors and scholars in the field of optometry, having taught in the School for more than 30 years. He has also served as IU's vice president for diversity, equity and multicultural affairs. During this time, enrollment of minority undergraduate students at IU increased from just over 14 percent of domestic enrollment when Marshall began in 2007 to nearly 20 percent at the end of 2012. Marshall also directed the creation of diversity plans at all IU campuses, launched and led the President's University Diversity Initiative and worked with the IU Bloomington provost to more than double the amount of scholarship funds available through the Hudson and Holland Scholars Program.
In 2002, Marshall became the first optometrist to be elected to serve as president of the Indiana Public Health Association. The following year, he became the first optometrist in the 132-year history of the American Public Health Association to be elected chair of the executive board. He is also a founding member of the Vision Care Section of the American Public Health Association, the oldest, largest and most diverse organization of public health professionals in the world.
Marshall was instrumental in IU's launching of two new schools of public health last year: the Fairbanks School of Public Health on the Indiana University-Purdue University Indianapolis campus, and the School of Public Health-Bloomington. Since 2009, he has served as chair of the IU Public Health Coordinating Council, which oversaw the planning for the development of the two schools.
Marshall has four degrees from IU: Doctor of Optometry, Master of Science, Bachelor of Science in optometry and Bachelor of Arts in zoology. In addition, he holds a Master of Public Health degree from the University of North Carolina, Chapel Hill.