Honoree
John Gibbs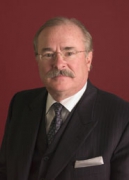 AWARDS
Presidents Circle Laurel Pin (2018)

Fellow

Partners in Philanthropy (2008)

Keystone Award

IUPUI Spirit of Philanthropy Award (2002)
BIOGRAPHY
John R. Gibbs graduated from Indiana University in 1972 with a degree in business. In October 1994, he co-founded Interactive Intelligence, a global developer of interaction management software and has been executive vice president since January 1995. In 2000, Gibbs, along with his co-founder, was a regional winner in the Ernst & Young Entrepreneur of the Year Award "eServices and Software" category. Before Interactive Intelligence, Gibbs was an independent management consultant, serving primarily entrepreneurial and emerging growth companies. He also served as the first executive director of the Indiana Software Association, which later became INITA (Indiana Information Technology Association).
Gibbs is a founding member of the School of Informatics Dean's Advisory Council. His service to the state extends beyond the School of Informatics. He is a Member of Board of Directors of Ballet Internationale, and is on the Board of Advisors of Rose Hulman Institute Indianapolis. Gibbs also serves as a member of the Kelley School of Business's Dean's Council, and is a founding member on the Board of Advisors for the Johnson Center for Entrepreneurship and Innovation.
Under his leadership, an endowment was established on behalf of members of the Informatics Dean's Advisory Council to fund the John R. Gibbs Scholarship for Innovation for IU Informatics students. In 2008, Gibbs made a similar contribution to create a scholarship endowment for students at the IU Kelley School of Business. The Gibbs Scholarships are used to attract to the Kelley School outstanding students who have demonstrated or expressed a stated interest in innovation and entrepreneurship.