Honoree
Franklin D. Schurz Jr.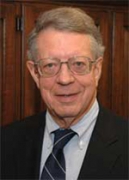 AWARDS
Bicentennial Medal (2020)
Presidents Circle Laurel Pin (2016)

Benefactor

Honorary Degree (2015)

L.H.D.
Doctor of Humane Letters
Indiana University South Bend Commencement Ceremony
Location: South Bend
Presenter: Michael A. McRobbie

Partners in Philanthropy (2012)

Cornerstone Award

IUSB Chancellor's Medallion (2009)

IUSB Chancellor's Medallion
Location: South Bend

BIOGRAPHY
Franklin D. Schurz Jr. is chairman of the board of Mishawaka-based Schurz Communications Inc., a media holdings company that publishes the South Bend Tribune and eleven other daily papers. It also has interests in radio, television, cable television, and advertising shoppers in Indiana, Maryland, Florida, Missouri, Virginia & Georgia. Mr. Schurz has been Editor and Publisher of both the South Bend Tribune Inc. in South Bend, Indiana and the Morning Herald and the Daily Mail in Hagerstown, Maryland. He is a graduate of Harvard College, and received a Masters degree from The Harvard Business School.
During his 26 years of newspaper career he served as president of the Maryland-Delaware-D.C. Press Association, the Hoosier State Press Association, the Chesapeake A.P. Association, and the Institute of Newspaper Controllers and Finance Officers. He received the Presidential Award of Merit from the National Newspaper Association. He served on the board of directors of the Newspapers Advertising Bureau, The American Press Institute, the Southern Production Plan, and the Riverside Press Enterprise and is currently serving on the board of the Inland Press Association. He chaired the AP audit committee for five years.
He is a member of the American Society of Newspaper Editors, the Society of Professional Journalists and the National Press Club. He chaired committees of the American Newspaper Publishers Association.
For fifteen years he spent time in broadcast as well. He is past president of WDBJ Television, Inc. Roanoke, Virginia; WAGT Television, Inc. Augusta, Georgia; KY3, Inc. Springfield, Missouri; and WASK, Inc. Lafayette, Indiana. He is Honorary Trustee of the Foundation of American Women in Radio and Television. He became a member of the board of C-Span in June, 1997, and a member of the MSTV board in October, 2001.
For more than 30 years, Schurz has been instrumental to the extraordinary growth of Indiana University's South Bend campus. His crowning legacy is the Opportunity Scholarship, which he established in 2003 to address low enrollment and retention rates among Hispanic and African-American students. This endowed scholarship fund, one of South Bend's largest, is awarded based on academic achievement and financial need and, to date, has benefited more than 65 students. His volunteer activities for the campus have spanned decades and include serving on every chancellor's advisory board since the early 1980s, contributing to the campus's land-acquisition efforts, and cultivating other major donors in the community. Formerly president of Schurz Communications, Inc., a South Bend-based media-holding company, Schurz has worked through the years to increase IU South Bend's visibility in the community. In 2020, Shurz was awarded Indiana University's Bicentennial Medal, in recognition of his distinguished contributions and longstanding support of the university.