Honoree
James R. Quigg III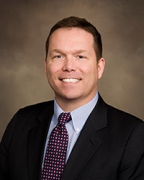 AWARDS
Bicentennial Medal (2019)
Partners in Philanthropy (2007)

Cornerstone Award

BIOGRAPHY
Quigg has been the treasurer of the Richmond Baking Company since 2002 and its vice president of accounting since 2010. He and his wife, Kelli, are celebrated in their community for their philanthropic efforts. Quigg serves as the director of the Quigg Family Foundation, through which the Quigg family contributes to various organizations in east central Indiana. In 2007, Quigg received the Partners in Philanthropy Cornerstone Award for his outstanding service to Indiana University East as the chairman of the successful $2.1 million Campaign for Community in 2005-06. The campaign supported nursing and science laboratories, provided scholarships, established a new Center for Entrepreneurship, and created The Gallery in Whitewater Hall, among other accomplishments.
Quigg has several interests outside of Richmond Baking Company. He served as a partner in Mahallasville Road Productions, through which he produced the 2008 documentary 1:47, an exploration of the 1968 explosion in Richmond.
Quigg graduated from Indiana University in 1993 with a bachelor's degree in history. In 1997, he earned a certified public accountant certificate at Indiana University-Purdue University Indianapolis.