Honoree
Christel DeHaan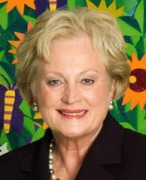 AWARDS
Partners in Philanthropy (2000)

Herman B Wells Visionary Award

BIOGRAPHY
Christel DeHaan is a German-American businesswoman, philanthropist, and community leader. Born in Germany, DeHaan was a bright pupil who became the youngest student to graduate at her all girl's academy. At the age of 16, she moved from German to the United Kingdom to become a nanny. DeHaan then became an interpreter and secretary for the U.S. Armed Forces in for a year before emigrating to the United States in 1962 and settling in Indiana. While attending the University of Indianapolis (then, Indiana Central University), Christel met IU Alum, Jon DeHaan, and they married in 1973.
She co-founded with her then husband Resort Condominiums International (RCI), a timeshare company, which she grew into a global enterprise with offices in 38 countries. After buying the company from Jon, she sold RCI in 1996 and dedicated her talents and gifts to philanthropy. In 1998, DeHaan established Christel House International, an educational nonprofit, to maximize the impact of support from her and fellow donors. She stepped down as the organization's CEO in 2018, but has remained as board chair. DeHaan is well-known throughout central Indiana as a proponent for the arts and supports the arts & culture sector through her family foundation.
At Indiana University, DeHaan's generosity can be felt across the Bloomington and Indianapolis campuses. Her patronage is especially felt at the Jacobs School of Music and Herron School of Art and Design. She recently gave support to bring the Jacobs 2018 production of Hansel and Gretel to Indianapolis. For her commitment to education, the arts, and other philanthropic efforts to IU, she was awarded the inaugural Herman B Wells Visionary Award.