Honoree
Louis L. Mervis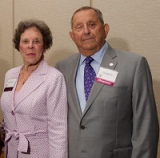 AWARDS
Partners in Philanthropy (2015)

Herman B Wells Visionary Award

IU Foundation President's Medallion (2013)
Presidents Circle Laurel Pin (2013)

Benefactor

BIOGRAPHY
Lou Mervis is a native of Danville, Illinois. He came to Indiana University and graduated in 1956 with a Bachelor of Science in Business. At IU, he was the president of the Board of Aeons and worked closely with President Herman B Wells.
Mervis has had a long career in business and has held executive positions at a number of companies. He has served as a Director of Old National Bancorp., as President of Danville Steel, and as an Executive of Capitol City Metals, LLC. He also serves as Chief Executive Office and President of Mervis Industries, Inc., a innovative recycling company that he founded.
Mervis' leadership has not been limited to his professional career. Throughout his life, Mervis has dedicated his time and service to a number of community and civic causes. He served as general chairman of the United Way campaign in 1977. He was named chairman of the Illinois State Board of Education in 1991 after serving as a member of the Board for ten years. He is a past member of the Illinois Human Relations Commission, a former chairman of the Illinois Board of Anti-Defamation League, a member of Governor Jim Thompson's transition team. He was a member of the District 118 Board of Education for six years, serving as president for three years. He has served as Director of the Chamber of Commerce, as three-term president of Congregation Israel, as chairman of the Zoning Commission and the Danville Planning Commission, on the Board of Director for Danville Little League, as a member of the Schlarman Foundation, as a member of the Greater Danville Development Corporation, as a member of the Palmer National Bank Board of Directors, and as a founding member of the Danville Area Economic Development Corporation. His commitment to his community earned him the Jaycee Distinguished Service Award in 1966, the 1978 "First Citizen Award" from the American Business Club, and the 1988 Excellence in Leadership Award from Leadership Danville.
Mervis' generous spirit stems from his religious practice. Both he and his wife, Sybil, are guided to fulfill the Jewish principle of "tikkun olam," which means to heal the world. Their diligence in applying this principle to their personal and public lives has not only led to their engagement in the Danville community, but also to their lifelong leadership and service on behalf of Indiana University. They have provided exceptionally generous support of the Borns Jewish Studies Program at Indiana University. In addition to establishing the Lou and Sybil Mervis Chair in Jewish Cultural Studies, three scholarships for undergraduates in Jewish Studies, and the Louis L. and Sybil S. Mervis Overseas Study Scholarship, they have served as members of the Jewish Studies Advisory Board for more than 30 years. The Mervises have galvanized other major donors to support the Jewish Studies overseas study scholarship campaign, resulting in 10 endowed scholarships.
Their commitment to IU has also benefitted the Verona String Quartet at the Jacobs School of Music, the Hematology/Oncology, Glaucoma Research and Education Fund, the Feigenbaum Professorship of Cardiology at the School of Medicine and the Hillel Center at IU. Sybil is a member of the Women's Philanthropy Council at Indiana University. The couple was awarded the IU Foundation's President's Medallion for their steadfast service and loyalty to IU.