Honoree
Elizabeth A. Elkas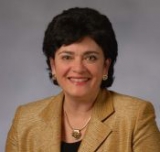 AWARDS
Distinguished Service Medal (2019)

Location: Indianapolis, IN
Presenter: Michael A. McRobbie

IU Foundation President's Medallion (2008)
BIOGRAPHY
Liz Elkas was Associate Dean for Development at Indiana University School of Medicine and served as the school's chief development officer. After graduating from Bucknell University with a BA in English and Fine Arts, she obtained a Master of Fine Arts degree from Indiana University.
Her fundraising career began at the Indiana University Foundation in 1985, where she worked on a large scale comprehensive campaign and managed the major gifts team covering southern Indiana. In 1987 she accepted a position with Indiana University School of Medicine. Since then, she built the major gifts program, managed the annual fund, staffed a variety of boards, and orchestrated several successful capital campaigns. She became Associate Dean for Development in 2005.
Liz and her husband, Dave, live in Bloomington, Indiana. They have two grown children.