Honoree
Marshall Goss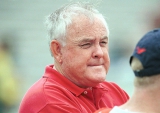 AWARDS
Bill Orwig Award (2017)
IU Foundation President's Medallion (2005)
Olympians (1984)

Track and Field IAAF Administrator of Officials
United States of America
Location: Los Angeles
Event: Track and Field IAAF Administrator of Officials

BIOGRAPHY
Marshall Goss came to IU as an assistant coach of track and cross-country under legendary coach Sam Bell after teaching and coaching at Bloomington High School South for more than 20 years. When Bell retired in 1999, Goss ran the program until 2004, when he became assistant athletic director for game-day activities.
Goss is now the director of the Indiana Track & Field and Cross Country Hall of Fame Museum, and continues his work as manager of the IU nursery.
As a competitor at Indiana Central University, now the University of Indianapolis, Goss won eight varsity letters in cross-country and track. He also earned numerous honors as a high school coach and is a member of the Indiana Association of Track and Cross Country Coaches, University of Indianapolis, and Monroe County Sports halls of fame.