Honoree
Phil Hardwick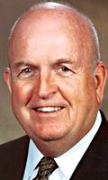 AWARDS
IUPUI Spirit of Philanthropy Award (2015)
IUPUI Spirit of Philanthropy Award (2006)
IU Foundation President's Medallion (2005)
BIOGRAPHY
Phillip Hardwick graduated from IU in 1959 with a B.S. in Recreation and in 1963 with a M.S. in Administration, Parks, and Recreation. From 1959 until 1967, he served various parks and recreation positions in Milwaukee, Bloomington, and Indianapolis. Hardwick served as IU Foundation's Vice President for IUPUI for more than a decade, establishing a legacy with his fundraising efforts. While serving as the Vice President, he was responsible for conducting the campus' first capital campaign. It was a resounding success, reaching over $1 Billion in total support, the first campaign in IU history to surpass that milestone as well as the first ever to achieve it by a public university in Indiana. He also funded a scholarship at the IU HPER School.
Prior to working at IU, he served as president of the Methodist Health Foundation and special assistant to the president at Marian College. From 1967-1984, he was campaign director for United Way of Indianapolis. He was a member of the Indiana Council of Fund-Raising Executives, Inc., and was honored with the Fundraiser of the Year Award in 1984.
In 2015, the IUPUI Department of Intercollegiate Athletics posthumously honored Hardwick for his many years of support of IUPUI student athletes. Known for his professional work with the IU Foundation, Hardwick continued to leave a lasting mark on the campus with his support of Jaguars Athletics. In contributing to the annual Jaguars Athletics Club Scholarship Fund for more than 20 years, Hardwick showed a deep and close connection to the coaches and student athletes and exhibited his support of the athletic department mission to recruit, retain and graduate champions. He also enjoyed a unique contribution to the program for 15 years as the observer of basketball officials, which offered him a unique vantage point to support his love of the game.