Honoree
John Lechleiter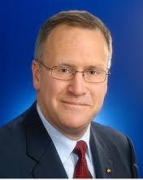 AWARDS
President's Medal for Excellence (2017)

Location: Indianapolis
Presenter: Michael A. McRobbie

Honorary Degree (2013)

D.S.
Doctor of Science
Science and Engineering Laboratory Building Dedication Ceremony
Location: Indianapolis
Presenter: Michael A. McRobbie

BIOGRAPHY
For more than three decades as an executive at Eli Lilly and Company, Dr. Lechleiter's focus on research, development, and innovation helped build one of the most promising pipelines in the pharmaceutical industry; he has continued to advocate and extend the company's leadership in corporate philanthropy as well.
Lechleiter joined Lilly in 1979 as a senior organic chemist and subsequently served with great distinction in a variety of management roles during his 37-year career there, including chief operating officer, president and CEO, and chairman of the board.
As head of the Indianapolis area's largest nongovernment employer, Dr. Lechleiter has been outspoken in supporting the state's economy. He has advocated the need for Indiana to do more to retain its leadership role in the life sciences, articulating the bold idea of creating an applied research institute in Indiana that would leverage the collective strengths of the state's life sciences industry, leading research universities and the state government for the benefit of Indiana's economy. Dr. Lechleiter's leadership continues to serve as a catalyst for continued growth and success in bringing pharmaceutical knowledge and scientific resources to the people and organizations that need it most.
In July, 2009, the Sarah and John Lechleiter Challenge Match was announced as a $1 million challenge to increase United Way campaign participation among local CEOs and Meridian Society Donors (those who give $25,000 or more annually). The Lechleiter's generous gift matches contributions in several ways, up to $250,000 each year. In 2010, new research collaboration was formed between Indiana University, Purdue University, Eli Lilly Corporation, and the University of Minnesota. These funds supported collaborative research with well-chosen animal models with which to test drug-, cell-, and DNA-therapies.
Dr. Lechleiter is a member of the American Chemical Society and Business Roundtable. He serves as chairman of the Pharmaceutical Research and Manufacturers of America (PhRMA), as president of the International Federation of Pharmaceutical Manufacturers & Associations (IFPMA), and on the boards of United Way Worldwide, Xavier University (Cincinnati, Ohio), the Life Sciences Foundation, and the Central Indiana Corporate Partnership. He also serves on the board of Nike, Inc. Dr. Lechleiter has received honorary doctorates from Marian University (Indianapolis, Indiana), the University of Indianapolis, and the National University of Ireland.