Honoree
Joseph Irwin Miller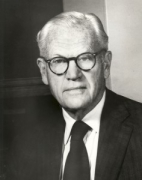 AWARDS
Partners in Philanthropy (2002)

Herman B Wells Visionary Award

Honorary Degree (1958)

LL.D.
Doctor of Laws
Commencement
Location: Bloomington
Presenter: Herman B Wells

BIOGRAPHY
Miller is honorary chairman of Cummins Inc. in Columbus, Ind., the world's largest manufacturer of heavy-duty diesel engines. From a family business with 60 employees, he built Cummins into a Fortune 500 company with more than 25,000 workers in 100 countries and $6 billion in annual sales. He also transformed his hometown of Columbus, Ind., into one of the architectural wonders of the nation.
He championed social reform, from helping organize Martin Luther King Jr.'s 1963 civil rights march on Washington to shutting down a Cummins plant in South Africa in protest of the apartheid government. King called him the most progressive businessman in America.
Miller has advised presidents both in the United States and abroad, from John F. Kennedy to Nelson Mandela. He has received 18 honorary doctorates from some of the most prestigious universities in the country and numerous awards, including membership in Phi Beta Kappa and the American Academy of Arts and Sciences. His colleagues term him a man who thinks first as a concerned citizen of the world.