Honoree
Lacy Johnson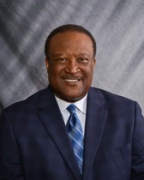 AWARDS
Bicentennial Medal (2019)
Presidents Circle Laurel Pin (2018)

Benefactor

Partners in Philanthropy (2018)

Cornerstone Award

McKinney School of Law Distinguished Alumni Award (2016)

Indiana University Purdue University Indianapolis (IUPUI)
J.D., 1981

Distinguished Alumni Service Award (2014)

J.D., 1981

BIOGRAPHY
Lacy Johnson is a partner at Ice Miller LLP and serves as co-chair of the Public Affairs and Gaming Group. Ice Miller frequently seeks Lacy's leadership as the firm, and individual professionals within it, look for more meaningful ways to support diverse groups in our communities.
Since earning his J.D. from the Robert H. McKinney School of Law in 1981, Lacy has fostered a long-standing connection with the school and IUPUI. He co-chaired McKinney Law's IMPACT fundraising campaign in 2012 and made a significant gift commitment to the Gerald L. Bepko Endowed Chair in Law. He did this while simultaneously establishing the Lacy M. Johnson Scholarship, which provides financial assistance for law students from underrepresented backgrounds. Newly created scholarships for underrepresented students at the Lilly Family School of Philanthropy also showcase the Johnsons' steadfast dedication to the Indianapolis campus.
Lacy's passion for IU is apparent on the Bloomington campus as well. Lacy has served on the IU Foundation Board of Directors for the past 10 years. Staunch supporters of the Office of the Vice President for Diversity, Equity, and Multicultural Affairs (OVPDEMA), the Johnsons have created Bloomington-based scholarships for minority and LGBTQ+ populations, as well as minority students in STEM programs within the College of Arts and Sciences and the Kelley School of Business.
Recognizing the need to develop leadership among diverse tenured and tenure-track faculty, Lacy and his wife, Patty, funded the Johnson Professorship for Diversity and Leadership in OVPDEMA. Shortly after funding this endeavor, they made another substantial gift that converted the endowed professorship into an endowed chair and established a number of scholarships to assist with recruiting and retaining students from diverse populations. Moreover, starting with their volunteer leadership and substantial support for McKinney Law and continuing with university-wide efforts, the Johnsons have worked tirelessly on behalf of IU to engage others in philanthropy. The Black Philanthropy Circle, a program recently developed to address the needs of the IU and national black communities, and build leadership and career-enhancing initiatives for black students and faculty, was created, in large part, by Lacy's unwavering commitment to cultivate and promote excellence at IU.