Honoree
Louise E. Addicott Joshi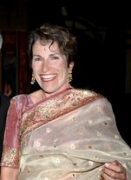 AWARDS
Partners in Philanthropy (2014)

Cornerstone Award

IUSB Chancellor's Medallion (2013)

IUSB Chancellor's Medallion
Location: South Bend

BIOGRAPHY
Born and raised in England, Louise Eleanor Addicott made her home in South Bend, Indiana, with her husband, Yatish Joshi. Together, they started a successful business, GTA Containers Inc., and had three children, Georgina, Tenzing and Avatar. It was through Georgina and Avatar, both IU graduates, that the couple became friends of IU and supporters of music students in South Bend and Bloomington.
Establishing the Georgina Joshi Foundation in memory of her daughter, Addicott has endowed master classes at the Jacobs School of Music and IU South Bend. She has also awarded funding to several Jacobs School of Music graduate voice students, helping them transition into the professional world of music.
Ignited by Addicott's vision to give young musicians access to educational experiences and to support public music performances in South Bend, Yatish Joshi assumed a leadership role in the renovation of IU South Bend's recital hall, transforming the building into a world-class venue for performances by chamber musicians, soloists and small ensembles.
In September, the hall was named the Louise E. Addicott and Yatish J. Joshi Performance Hall. Throughout her life, Addicott supported numerous local performing groups such as the pianists from the Toradze Piano Studio at IU South Bend, the South Bend Chamber Singers and the Fischoff National Chamber Music Association. She organized fundraising events and also opened her home to host performers during their annual competitions.