Honoree
Nancy Bergen Hunt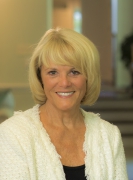 AWARDS
Bicentennial Medal (2020)
Presidents Circle Laurel Pin (2016)

Fellow

Partners in Philanthropy (2014)

Herman B Wells Visionary Award

Presidents Circle Laurel Pin (2014)

Benefactor

BIOGRAPHY
Nancy Bergen Hunt earned her bachelor's degree from Florida Southern College in 1967 and her masters from Butler University in 1989. Her philanthropic connection to IU began when she married IU alum, Bill Hunt. Together, they have been dedicated philanthropists to IU who have established scholarships, fellowships, and awards.
In 2001, Bill and Nancy Hunt made a major gift to IU Kokomo to equip the campus with the state-of-the-art Virgil and Elizabeth Hunt Hall, a science facility with classrooms, laboratories, and administrative and faculty offices. They also created the V. William and Nancy B. Hunt Scholarship in the Maurer School of Law in 2008. Their contemporary art acquisition fund brought the installation of Cocksedge's "A Gust of Wind" to the Eskenazi Museum of Art, among other works. Through their sustained support over the years, the Hunts have positively impacted many of the University's campuses, centers, programs, and initiatives.
Being interested in the arts since her first art history class in college, Nancy Hunt joined the National Advisory Board of the Eskenazi Art Museum in 2002. Due to her enthusiasm and involvement, her husband later joined the advisory board. She is also a founding member of the Women's Leadership Philanthropy Council which has become a national university model for engaging women in volunteerism and philanthropy.
Her lifetime commitment to Indiana University through the power of philanthropy has garnered her the Herman B Wells Visionary Award and President's Circle Laurel Pin at the Benefactor level. In 2020, Hunt was awarded Indiana University's Bicentennial Medal in recognition of her distinguished contributions and longstanding support of the university.